Innovations in Fellowship Education
---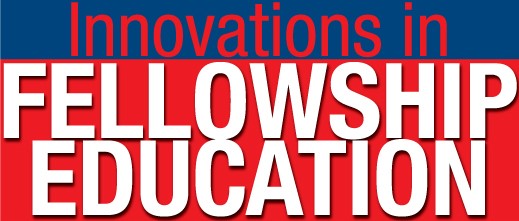 The ATS will be accepting abstracts for the 2019 Innovations in Fellowship Education in August 2018. Please send questions to llynch@thoracic.org
---
The American Thoracic Society (ATS) greatly values a strong fellowship program as a means of academic and clinical success. In an effort to recognize programs that implement exceptional practices, the ATS Training Committee developed the Innovations in Fellowship Education Program. All pulmonary, critical care, sleep, and allergy fellowship programs (adult and pediatric) were invited to submit one abstract showcasing a novel and innovative best practice method.
Abstracts were reviewed and ranked by the ATS Training Committee based on the following criteria:
Innovation: How unique is the educational program? What is new and different?
Implementation / Sustainability: How was the program implemented and how effective was such implementation? Was this program sustainable over time?
Transferability: How easily might this educational program be adopted by other programs?
Outcomes: Are there reported outcomes or plans to measure them? The goal of this program is to honor fellowship programs that demonstrate educational excellence and share these best practices with other programs.
The ATS Training Committee would like to thank all the programs that submitted abstracts and applauds them for their innovative and outstanding work! The committee is pleased to honor the following top programs:
University of Washington (top abstract for 2017)
Leadership Education for Critical Care Fellows Using Simulation

Boston University
An Interactive, Flipped-Classroom Approach to Introducing Pulmonary Fellows to Flexible Bronchoscopy

Mount Sinai St. Luke's-West-ICAHN School of Medicine
Promoting Humanism in Pulmonary & Critical Care Medicine: For Fellows, By Fellows

Oregon Health and Sciences University
Using High Fidelity Simulation-based Education to Improve Practitioner Competence and Comfort in Ventilator Management

The Medical University of South Carolina
A Longitudinal Curriculum in Critical Care Ultrasonography Training for Pulmonary and Critical Care Medicine Fellowships

University of Arizona (top updated abstract for 2017)
Advanced Airway Management in Critical Care Fellowship Training: Curriculum
Adjustment Aimed at Improving Patient Outcomes
---
Previous Innovations in Fellowship Education booklets
Last Reviewed: July 2018