Previous Winners
---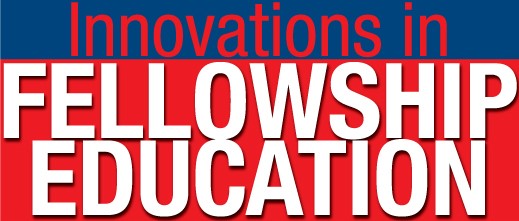 Innovations in Fellowship Education highlights fellowship training programs using innovative educational practices in the fields of pulmonary, critical care, sleep, and allergy medicine. Each year, fellowship training programs around the world submit abstracts showcasing new approaches to fellowship education. Up to five abstracts representing the most innovative programs or concepts are selected from the accepted submissions.
Submit an Abstract
Submit your Innovations in Fellowship Education abstract today! Abstracts can be submitted at any time, with abstracts submitted before November eligible to be recognized at the following year's ATS International Conference.
All pulmonary, critical care, sleep, and allergy training programs are eligible. Abstracts may be submitted by training program directors, associate training program directors, fellow trainees or medical educators. Programs that have previously submitted abstracts are encouraged to submit updates to show new data and changes in practice.
Accepted abstracts will be published on this website and in the Innovations in Fellowship Education booklet where they will be shared to the 15,000 members of the ATS for the benefit of all programs.
Winning abstracts will be recognized in ATS News and ATS Stat. They will also be recognized with signage throughout the ATS International Conference and presented with a plaque at the Section on Medical Education meeting.
The submitter of the top-ranked abstract will be invited to speak and share their educational innovation at the APCCMPD-ATS-PEPTDA Forum.
Please note: the Innovations in Fellowship Education and ATS Call for Abstracts programs have separate review processes, timelines and abstract submission websites.
Winning Abstracts
2016
2015
2014
2013
2012
All Abstracts by Year
Questions
For more information, contact Lauren Lynch, Director of ATS Education Products and Programs, at llynch@thoracic.org.
Last Reviewed: September 2017