Persistent Sleepiness in Obstructive Sleep Apnea
---
Reviewed By Sleep and Respiratory Neurobiology Assembly
Submitted by
Nader Mina, MD
Fellow
Pulmonary, Critical Care and Sleep Medicine
Wayne State University
Detroit MI
Anan Salloum, MD
Assistant Professor of Medicine
Pulmonary, Critical Care and Sleep Medicine
Wayne State University
Sleep-Wake Disorders Center, John D. Dingell VA Medical Center, Detroit MI.
Susmita Chowdhuri, MD, MS
Associate Professor of Medicine
Pulmonary, Critical Care and Sleep Medicine
Wayne State University
Sleep-Wake Disorders Center, John D. Dingell VA Medical Center, Detroit MI.
Submit your comments to the author(s).
History
This is a 48 year-old female with a history of hypertension who presented to the sleep clinic with snoring, fatigue, daytime sleepiness, frequent nocturnal arousals, and morning headache. Her Epworth Sleepiness Scale (ESS) score was 17.
Review of her sleep habits revealed that her bedtime was around 10 pm, with sleep latency of 20 minutes, 2 nocturnal arousals without difficulty falling back asleep, and a final awakening around 8 am.
The patient denied any history of smoking or alcohol or recreational drug use, but had been consuming about 48 ounces of caffeine daily to stay awake. She denied using any sedating medications.
Physical Exam
Exam was significant for BMI of 38 kg/m2, oropharyngeal exam revealed Mallampati class IV, and mildly enlarged tonsils. The cardiovascular and respiratory examinations were normal.
The patient underwent a split-night polysomnography (PSG) study confirming the diagnosis of obstructive sleep apnea (OSA), with an apnea-hypopnea index (AHI) of 76.4/hour, minimum oxygen saturation of 87% and sleep efficiency of 57.7% during the baseline portion of the study. Figure 1 presents the hypnogram from the polysomnography study.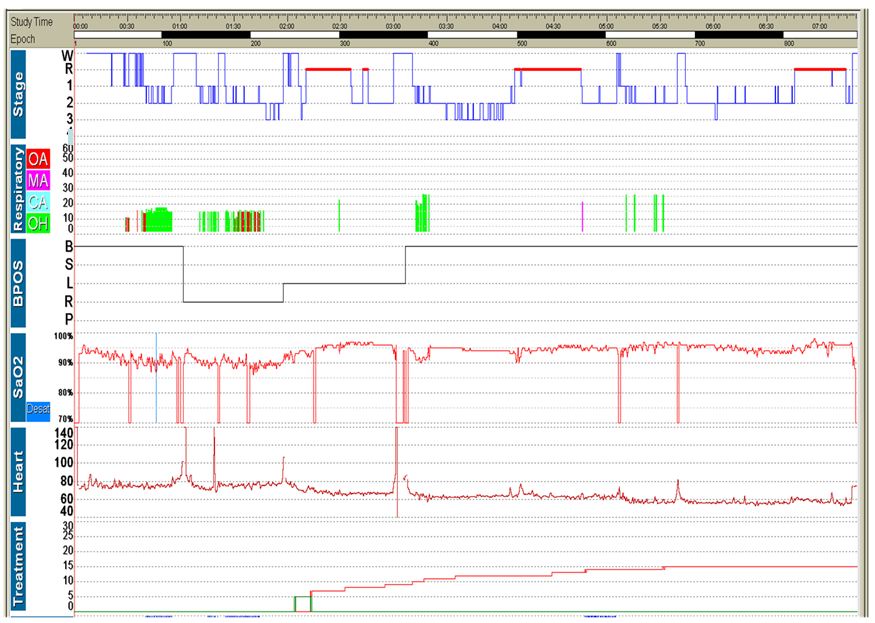 Figure 1: The hypnogram represents the split-night PSG study with an initial diagnostic portion followed by titration with continuous positive airway pressure (CPAP): On the respiratory event channel, the green and red bars represent hypopneas and obstructive apneas, respectively. Respiratory events channel: numbers indicate duration of event in seconds. clock time is indicated on the top border of the figure. Body position channel: B: back, R: right, L: left, S: side. SaO2; oxygen saturation. Heart: heart rate. Treatment: numbers indicate CPAP setting (cm H2O).
Subsequently, the patient was prescribed continuous positive airway pressure (CPAP) therapy.  
---
References
Giles TL, Lasserson TJ, Smith BJ, White J, Wright J, Cates CJ. Continuous positive airways pressure for obstructive sleep apnoea in adults. Cochrane Database Syst Rev. 2006 Jan 25;(1):CD001106.
Patel SR, White DP, Malhotra A, Stanchina ML, Ayas NT. Continuous positive airway pressure therapy for treating sleepiness in a diverse population with obstructive sleep apnea: results of a meta-analysis. Arch Intern Med. 2003;163(5):565.
Weaver TE, Kribbs NB, Pack AI, Kline LR, Chugh DK, Maislin G, Smith PL, Schwartz AR, Schubert NM, Gillen KA, Dinges DF. Night-to-night variability in CPAP use over the first three months of treatment. Sleep. 1997 Apr;20(4):278-83.
Kribbs NB, Pack AI, Kline LR, Smith PL, Schwartz AR, Schubert NM, Redline S, Henry JN, Getsy JE, Dinges DF. Objective measurement of patterns of nasal CPAP use by patients with obstructive sleep apnea. Am Rev Respir Dis. 1993 Apr;147(4):887-95.
Rauscher H, Formanek D, Popp W, Zwick H, Self-reported vs measured compliance with nasal CPAP for obstructive sleep apnea. Chest. 1993;103(6):1675.
Clete A. Kushida, M.D., Ph.D., RPSGT (Chair); Alejandro Chediak, M.D. (Vice-Chair); Richard B. Berry, M.D.; Lee K. Brown, M.D.; David Gozal, M.D; Conrad Iber, M.D.; Sairam Parthasarathy, M.D.; Stuart F. Quan, M.D; James A. Rowley, M.D. Clinical Guidelines for the Manual Titration of Positive Airway Pressure in Patients with Obstructive Sleep Apnea -Positive Airway Pressure Titration Task Force of the American Academy of Sleep Medicine. Journal of Clinical Sleep Medicine, Vol. 4, No. 2, 2008.
Chervin RD, Sleepiness, fatigue, tiredness, and lack of energy in obstructive sleep apnea. Chest. 2000;118(2):372.
Antic NA; Catcheside P; Buchan C; Hensley M; Naughton MT; Rowland S; Williamson B; Windler S; McEvoy RD. The effect of CPAP in normalizing daytime sleepiness, quality of life, and neurocognitive function in patients with moderate to severe OSA. SLEEP 2011;34(1):111-119.
Pépin JL, Viot-Blanc V, Escourrou P, Racineux JL, Sapene M, Lévy P, Dervaux B, Lenne X, Mallart A. Prevalence of residual excessive sleepiness in CPAP-treated sleep apnoea patients: the French multicentre study. Eur Respir J 2009 33:1062-1067.
Xuân-Lan XL Nguyên, Dominique D Rakotonanahary, Joël J Chaskalovic, Carole C Philippe, Chantal C Hausser-Hauw, Bernard B Lebeau and Bernard B Fleury. Residual subjective daytime sleepiness under CPAP treatment in initially somnolent apnea patients: a pilot study using data mining methods. Sleep Med 9(5):511-6 (2008).
John R. Stradling, Debbie Smith and Joy Crosby. Post-CPAP sleepiness--a specific syndrome? J Sleep Res. 2007 Dec;16(4):436-8.
Weaver TE; Maislin G; Dinges DF et al. Relationship between hours of CPAP use and achieving normal levels of sleepiness and daily functioning. SLEEP 2007;30(6):711-719.
Koutsourelakis, E. Perraki, N.T. Economou, P. Dimitrokalli, E. Vagiakis, C. Roussos and S. Zakynthinos. Predictors of residual sleepiness in adequately treated obstructive sleep apnoea patients. Eur Respir J 2009; 34: 687–693.
Stradling JR, Smith D, Crosby J. Post-CPAP sleepiness----a specific syndrome? J Sleep Res. 2007 Dec;16(4):436-8.
Guilleminault C, Philip P. Tiredness and somnolence despite initial treatment of obstructive sleep apnea syndrome (what to do when an OSAS patient stays hypersomnolent despite treatment). Sleep. 1996 Nov;19(9 Suppl):S117-22.
Veasey SC, Davis CW, Fenik P, Zhan G, Hsu YJ, Pratico D, Gow A. Long-term intermittent hypoxia in mice: protracted hypersomnolence with oxidative injury to sleep-wake brain regions. Sleep. 2004 Mar 15;27(2):194-201.
U.S. Modafinil in Narcolepsy Multicenter Study Group. Randomized trial of modafinil as a treatment for the excessive daytime somnolence of narcolepsy. Neurology 2000;54:1166–1175.
Moldofsky H, Broughton RJ, Hill JD. A randomized trial of the longterm, continued efficacy and safety of modafinil in narcolepsy. Sleep Med 2000;1:109–116.
Broughton RJ, Fleming JA, George CF, Hill JD, Kryger MH, MoldofskyH, Montplaisir JY, Morehouse RL, Moscovitch A, Murphy WF.Randomized, double-blind, placebo-controlled crossover trial of modafinil in the treatment of excessive daytime sleepiness in narcolepsy. Neurology 1997;49:444–451.
Mitler MM, Harsh J, Hirshkowitz M, Guilleminault C. Long-term efficacy and safety of modafinil (PROVIGIL®) for the treatment of excessive daytime sleepiness associated with narcolepsy. Sleep Med. 2000;1: 231–243.
Pack AI, Black JE, Schwartz JR, Matheson JK. Modafinil as adjunct therapy for daytime sleepiness in obstructive sleep apnea. Am J Respir Crit Care Med. 2001 Nov 1;164(9):1675-81.
Schwartz JR, Hirshkowitz M, Erman MK, Schmidt-Nowara W. Modafinil as adjunct therapy for daytime sleepiness in obstructive sleep apnea: a 12-week, open-label study. Chest. 2003 Dec;124(6):2192-9.
Jasinski DR, Kovacevic-Ristanovic R. Evaluation of the abuse liability of modafinil and other drugs for excessive daytime sleepiness associated with narcolepsy. Clin Neuropharmacol 2000;23:149–156.
Baranski JV, Pigeau RA. Self-monitoring cognitive performance duringsleep deprivation: effects of modafinil, d-amphetamine and placebo. J Sleep Res 1997;6:84–91.
Dinges DF, Weaver TE. Effects of modafinil on sustained attention performance and quality of life in OSA patients with residual sleepiness while being treated with nCPAP. Sleep Med. 2003 Sep;4(5):393-402.
Weaver TE, Chasens ER, Arora S. Modafinil improves functional outcomes in patients with residual excessive sleepiness associated with CPAP treatment. J Clin Sleep Med. 2009 Dec 15;5(6):499-505.
Hirshkowitz M, Black J. Effect of adjunctive modafinil on wakefulness and quality of life in patients with excessive sleepiness-associated obstructive sleep apnoea/hypopnoea syndrome: a 12-month, open-label extension study. CNS Drugs. 2007;21(5):407-16.
Roth T, White D, Schmidt-Nowara W, Wesnes KA, Niebler G, Arora S, Black J. Effects of armodafinil in the treatment of residual excessive sleepiness associated with obstructive sleep apnea/hypopnea syndrome: a 12-week, multicenter, double-blind, randomized, placebo-controlled study in nCPAP-adherent adults. Clin Ther. 2006 May;28(5):689-706.
Ellen RL, Marshall SC, Palayew M, Molnar FJ, Wilson KG, Man-Son-Hing M. Systematic review of motor vehicle crash risk in persons with sleep apnea. J Clin Sleep Med. J Clin Sleep Med. 2006 Apr 15;2(2):193-200.
Tregear S, Reston J, Schoelles K, Phillips B. Continuous positive airway pressure reduces risk of motor vehicle crash among drivers with obstructive sleep apnea: systematic review and meta-analysis. Sleep. 2010 Oct;33(10):1373-80.
Tregear S, Reston J, Schoelles K, Phillips B. Obstructive sleep apnea and risk of motor vehicle crash: systematic review and meta-analysis. J Clin Sleep Med. 2009 Dec 15;5(6):573-81.
George CF. Sleep apnea, alertness, and motor vehicle crashes. Am J Respir Crit Care Med 2007;176:954-956.
Eby DW, Molnar LJ. Cognitive impairment and driving safety. Accid Anal Prev. 2012 Jul 3.
Pakola SJ, Dinges DF, Pack AI. Review of regulations and guidelines for commercial and noncommercial drivers with sleep apnea and narcolepsy. Sleep. 1995 Nov;18(9):787-96.
Hartenbaum N, Collop N, Rosen IM, et al. Sleep apnea and commercial motor vehicle operators: Statement from the joint task force of the American College of Chest Physicians, the American College of Occupational and Environmental Medicine, and the National Sleep Foundation. Chest. 2006 Sep;130(3):902-5.
Brown DB. Legal implications of obstructive sleep apnea. In: Kushida CA, editor. Obstructive sleep apnea: Diagnosis and treatment. New York NY: Informa Healthcare USA; 2007.
Sleep apnea, sleepiness, and driving risk. American Thoracic Society. Am J Respir Crit Care Med. 1994 Nov;150(5 Pt 1):1463-73.
Olson LG, Cole MF, Ambrogetti A. Correlations among epworth sleepiness scale scores, multiple sleep latency tests and psychological symptoms. J Sleep Res 1998;7:248-253.
Sangal RB, Thomas L, Mitler MM. Maintenance of wakefulness test and multiple sleep latency test. Measurement of different abilities in patients with sleep disorders. Chest 1992;101:898-902.
Aldrich M. Automobile accidents in patients with sleep disorders. Sleep 1989;12:487-94.
Banks S, Catcheside P, Lack LC, Grunstein RR, McEvoy RD. The Maintenance of Wakefulness Test and driving simulator performance. Sleep. 2005 Nov;28(11):1381-5.
Arzi L, Shreter R, El-Ad B, Peled R, Pillar G. Forty- versus 20-minute trials of the maintenance of wakefulness test regimen for licensing of drivers. J Clin Sleep Med. 2009 Feb 15;5(1):57-62.
Bonnet MH, Arand DL. Impact of motivation on Multiple Sleep Latency Test and Maintenance of Wakefulness Test measurements. J Clin Sleep Med. 2005 Oct 15;1(4):386-90.
Antic NA; Catcheside P; Buchan C; Hensley M; Naughton MT; Rowland S; Williamson B; Windler S; McEvoy RD. The effect of CPAP in normalizing daytime sleepiness, quality of life, and neurocognitive function in patients with moderate to severe OSA. SLEEP 2011;34(1):111-119.
http://www.fmcsa.dot.gov/rules-regulations/topics/medical/faqs.aspx