A 20 Year-Old with a Mediastinal Mass
---
Reviewed By Allergy, Immunology & Inflammation Assembly
Submitted by
Tyler B. Anderson, MD
Fellow
Division of Pulmonary, Allergy, Critical Care and Sleep Medicine
The Ohio State University Medical Center
Columbus, Ohio
Jonathan P. Parsons, MD, MSc, FCCP
Associate Professor of Internal Medicine
Division of Pulmonary, Allergy, Critical Care and Sleep Medicine
The Ohio State University Medical Center
Columbus, Ohio
Submit your comments to the author(s).
History
A 20 year old Caucasian man with no significant past medical history presented to his primary care physician for chest discomfort and cough. Two months prior to presentation, he reported having an unremarkable viral syndrome which resolved with no medical intervention. His primary care physician prescribed a short course of antibiotics for empiric treatment of pneumonia with some initial improvement in symptoms. His chest discomfort returned and he developed progressive dyspnea on exertion which led to a chest radiograph (CXR) (Figure 1).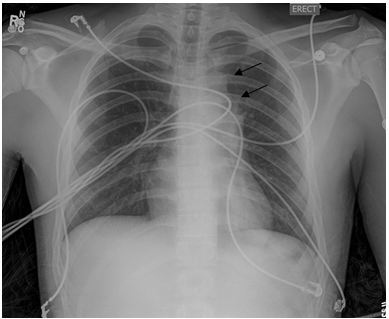 Figure 1. Posterior-anterior chest x-ray (CXR) demonstrating left-sided mediastinal mass (arrows).
An abnormality was noted in the left mediastinum which prompted his physician to order a computed tomography (CT) of the chest and to refer him to a pulmonary specialist. This CT scan (Figures 2 and 3) revealed a rounded, well-demarcated mass in the superoanterior mediastinal compartment. The largest diameter measured 6.8 x 4.8cm.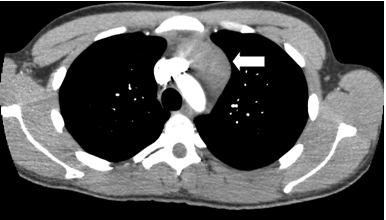 Figure 2. Computed tomography (CT) image of the chest demonstrating well-demarcated soft tissue mass in superoanterior mediastinal mass (arrow).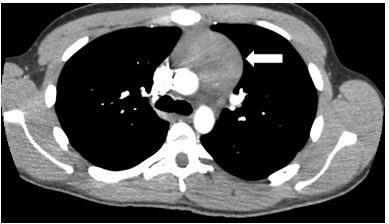 Figure 3. Computed tomography (CT) image of the chest demonstrating well-demarcated soft tissue mass in superoanterior mediastinal mass (arrow).
Further review of systems revealed subjective fever/chills along with night sweats. He denied wheezing, hemoptysis, weight loss, scrotal mass, palpable lymph nodes or any neurologic deficits.
He was a non-smoker and did not take any medications or use illicit drugs.
Physical Exam
The patient was in no acute distress. Vital signs were unremarkable. Cardiac exam demonstrated regular rate and rhythm with no murmur, gallop or rub. Lungs were clear to auscultation bilaterally without wheezes or rales. Abdomen was soft with no hepato/splenomegaly. There was no palpable cervical, supraclavicular or axillary lymphadenopathy. Genitourinary exam was negative for testicular masses. Neurologic exam showed no focal deficits. Cranial nerves appeared intact.
Lab
White blood cell count 7.2 K/uL, 56% Neutrophils, 28% Lymphocytes, 7% Eosinophils
Chemistry and liver function testing was within normal limits
Human chorionic Gonadotropin (HCG), serum <0.5 MIU/mL (normal in males <5.0 MIU/ml)
Alpha-fetoprotein (AFP), serum 2.2 NG/mL (normal 0.0-8.3 NG/ML)
---
References
Strollo DC, Rosado de Christenson ML, Jett JR. Primary mediastinal tumors. Part 1: tumors of the anterior mediastinum. Chest. Aug 1997;112(2):511-522.
Davis RD, Jr., Oldham HN, Jr., Sabiston DC, Jr. Primary cysts and neoplasms of the mediastinum: recent changes in clinical presentation, methods of diagnosis, management, and results. Ann Thorac Surg. Sep 1987;44(3):229-237.
Duwe BV, Sterman DH, Musani AI. Tumors of the mediastinum. Chest. Oct 2005;128(4):2893-2909.
Osserman KE, Genkins G. Studies in myasthenia gravis: review of a twenty-year experience in over 1200 patients. Mt Sinai J Med. Nov-Dec 1971;38(6):497-537.
Maggi G, Giaccone G, Donadio M, et al. Thymomas. A review of 169 cases, with particular reference to results of surgical treatment. Cancer. Aug 1 1986;58(3):765-776.
Rosai J, Levine GD. Tumors of the thymus. Washington: U.S. Dept. of Defense, Armed Forces Institute of Pathology : for sale by the American Registry of Pathology, Armed Forces Institute of Pathology; 1976.
Ruco LP, Rosati S, Palmieri B, Pescarmona E, Rendina EA, Baroni CD. True thymic hyperplasia: a histological and immunohistochemical study. Histopathology. Dec 1989;15(6):640-643.
Lee JKT, Sagel SS, Stanley RJ. Computed body tomography with MRI correlation. 2nd ed. New York: Raven Press; 1989.
Webb WR, Higgins CB. Thoracic imaging : pulmonary and cardiovascular radiology. Philadelphia: Lippincott Williams & Wilkins; 2005.
Yassin SF MJ. Surgery of the Thymus Gland. 2012. http://emedicine.medscape.com/article/427053-overview#aw2aab6b7.
Cohen M, Hill CA, Cangir A, Sullivan MP. Thymic rebound after treatment of childhood tumors. AJR Am J Roentgenol. Jul 1980;135(1):151-156.