A 27-Year-Old With a Non-Resolving Cavitary Lung Lesion
---
Reviewed By Allergy, Immunology & Inflammation Assembly
Submitted by
Lokesh Venkateshaiah, MD
Fellow
Division of Pulmonary, Critical Care and Sleep Medicine
Case Western Reserve University
Cleveland, Ohio
J. Daryl Thornton, MD MPH
Assistant Professor
Division of Pulmonary, Critical Care and Sleep Medicine
Case Western Reserve University
Cleveland, Ohio
Submit your comments to the author(s).
History
A 27-year-old man presented to the pulmonary clinic for evaluation of a non-resolving lung cavity. Four months earlier, he had been diagnosed with pulmonary tuberculosis and was started on four-drug antituberculous directly observed therapy. A PPD placed at that time measured 22 mm of induration.
During the pulmonary clinic visit, the patient stated that over the last year and a half he had a cough occasionally productive of minimal blood-streaked sputum. He had denied other symptoms including nocturnal diaphoresis, anorexia, weight loss, or fevers. 
The patient's past medical history was remarkable for an abnormal chest radiogram that was noted one and a half years ago and one episode of malaria. 
Other than his recent antituberculous therapy he took no regular medications. 
He smoked one-half pack daily for the past 12 years. He occasionally snorted cocaine but did not use alcohol or other recreational drugs. He emigrated from Malaysia to the United States 8 months ago. He was originally from Burma but was a refugee in Malaysia. It was in Malaysia that he was noted to have an abnormal chest radiogram. He underwent additional investigations while there but was not given a diagnosis nor treatment.
Physical Exam
The patient appeared comfortable and was in no acute distress. Vital signs were unremarkable. The cardiac exam demonstrated regular rate and rhythm, a normal S1 and S2, and no murmur, gallop or rub. Breath sounds were equal bilaterally and absent of adventitious sounds. The abdomen was soft and without organomegaly. The patient's extremities were without clubbing or edema. There was a scar on the left upper arm from a prior BCG injection. No other skin lesions were noted.
Lab
White blood cell count was 10,000 per mm3 with 66% Neutrophils, 14% Lymphocytes and 12% eosinophils
Hematocrit 49%
Platelet count was 309,000 per mm3
Urea nitrogen was 12 mg /dl, and serum creatinine was 0.7 mg/dl
Liver function tests were within normal limits
Stools and sputum for ova and parasites were negative
Sputum for AFB times five was negative
Figures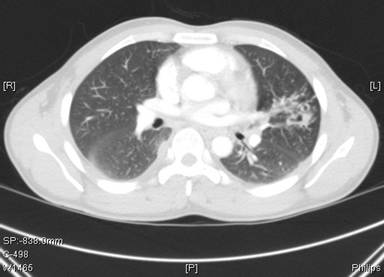 Fig 1: Chest computed tomography 4 months prior to current presentation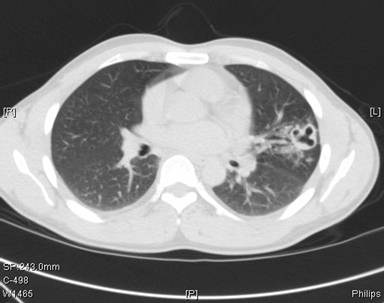 Fig 2: Chest computed tomography at presentation (4 months following initiation of antituberculous therapy)
---
References
Meehan AM, Virk A, Swanson K, et al: Severe pleuropulmonary paragonimiasis 8 years after emigration from a region of endemicity. Clin Infect Dis 2002; 35:87-90.
Yee B, Hsu J-I, Favour CB, et al: Pulmonary paragonimiasis in Southeast Asians living in the Central San Joaquin Valley. West J Med 1992; 156:423-425
Procop, GW, Marty, AM, Scheck, DN, et al. North American paragonimiasis. A case report. Acta Cytol 2000; 44:75.
Mariano, EG, Borja, SR, Vruno, MJ. A human infection with Paragonimus kellicotti (lung fluke) in the United States. Am J Clin Pathol 1986; 86:685.
DeFrain, M, Hooker, R. North American paragonimiasis: case report of a severe clinical infection. Chest 2002; 121:1368.
Castilla, EA, Jessen, R, Sheck, DN, Procop, GW. Cavitary mass lesion and recurrent pneumothoraces due to Paragonimus kellicotti infection: North American paragonimiasis. Am J Surg Pathol 2003; 27:1157.
www.dpd.cdc.gov
Mackie,T. Parasitic infections of the Lung; Chest 1948; 14; 894-905
Heath, Harley W & Susan G Marshall. "Pleural Paragonimiasis In A Laotian Child. ." Pediatric Infectious Disease Journal 16(12)(1997): :1182-1185
Im, JG, Whang, HY, Kim, WS, et al. Pleuropulmonary paragonimiasis: radiologic findings in 71 patients. AJR Am J Roentgenol 1992; 159:39.
Singcharoen, T, Silprasert, W. CT findings in pulmonary paragonimiasis. J Comput Assist Tomogr 1987; 11:1101.
Kim, TS, Han, J, Shim, SS, et al. Pleuropulmonary paragonimiasis: CT findings in 31 patients. AJR Am J Roentgenol 2005; 185:616.
Tomita, M, Matsuzaki, Y, Nawa, Y, Onitsuka, T. Pulmonary paragonimiasis referred to the department of surgery. Ann Thorac Cardiovasc Surg 2000; 6:295.
Sze-Pho Yang, Chin- tang Huang, Chin-Sung Cheng and Lan- Chang Chiang; The Clinical and Roentgenological Course of Pulmonary Paragonimiasis; Chest 1959; 36; 494-508
Eugene G Laforet and Mitsuko T Laforet; Non-Tuberculous cavitary diseases of the Lung; Chest 1957; 31; 665- 679
Im JG, Chang KH, Reeder MM: Current diagnostic imaging of pulmonary and cerebral paragonimiasis, with pathological correlation. Semin Roentgenol 1997; 32:301-324
Pachucki, CT, Levandowski, RA, Brown, VA, Sonnenkalb, BH, Vruno, MJ. American Paragonimiasis treated with praziquantel. New Eng J Med 1984; 311: 582-583
Mukae H, Taniguchi H, Matsumoto N, et al: Clinicoradiologic features of pleuropulmonary Paragonimus westermani on Kyusyu Island, Japan. Chest 2001; 120:514-520