Difficult-to-Control Asthma in a 49-Year-Old Man
---
Reviewed By Allergy, Immunology & Inflammation Assembly
Submitted by
Emily Norder, MD
Clinical Instructor and Internal Medicine Resident
Department of Internal Medicine
The Ohio State University Medical Center
Columbus, Ohio
Maria Lucarelli, MD
Assistant Professor of Internal Medicine
Department of Internal Medicine
The Ohio State University Medical Center
Columbus, Ohio
Submit your comments to the author(s).
History
A 49-year-old white male presents to pulmonary clinic for evaluation of wheezing and dyspnea.  He has a history of asthma since childhood that has been well-controlled off medication until this past year.  He reports daily symptoms and almost nightly nocturnal awakenings due to shortness of breath, which is temporarily relieved with bronchodilators.  He has had several exacerbations in the past 6 months and required hospitalization for an episode 1 month ago.  He has been treated with tapering doses of oral prednisone for each exacerbation and reports his symptoms worsen each time he completes a steroid taper. 
His past medical history is also significant for perennial allergies and chronic sinusitis requiring three surgeries.  His current medications include: fluticasone/salmeterol 500 μg/50 μg twice daily, zileuton 1200 mg twice daily, prednisone 10 mg daily, montelukast 10mg once daily and albuterol on an as-needed basis which he is currently using four times daily.  He was started on omalizumab 300 mg/month, 4 months ago without significant improvement.  He is a lifelong nonsmoker and denies any illicit drug use.
Physical Exam
On physical examination, vital signs are normal with Sp
o
2
on room air of 95%.  His head and neck exam is benign.  His pulmonary exam is significant for diffuse expiratory wheezes with prolonged expiratory phase.  Cardiac exam reveals regular rate and rhythm with no murmurs, rubs or gallops. There is no clubbing or cyanosis in his extremities.
Lab
Pulmonary Function Tests
Spirometry: FEV1- 2.12 L (58%); FVC- 3.63 L (77%); FEV1/FVC- 58.4%; post-bronchodilator studies FEV1- 2.38 L (increase of 12%); FVC- 3.98 L (increase of 10%)
Figures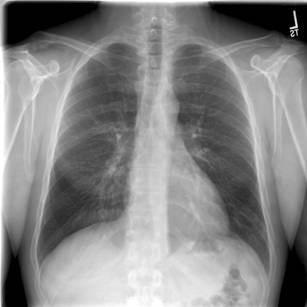 Figure 1: Posterior-anterior (PA) chest radiograph was within normal limits.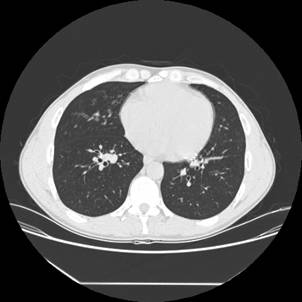 Figure 2: Axial view of high-resolution chest CT using lung windows showing mild central bronchiectasis.
---
References
American Thoracic Society. Proceedings of the ATS workshop on refractory asthma: Current understanding, recommendations, and unanswered questions. Am J Respir Crit Care Med 2000;162:2341-2351.
Hinson KF, Moon AJ, Plummer NS. Broncho-pulmonary aspergillosis; a review and a report of eight new cases. Thorax 1952;7:317-333.
Judson MA. Noninvasive aspergillus pulmonary disease. Semin Respir Crit Care Med 2004;25:203-219.
Greenberger PA. Allergic bronchopulmonary aspergillosis. J Allergy Clin Immunol 2002;110:685-692.
Schubert MS. Allergic fungal sinusitis. Otolaryngol Clin North Am 2004;37:301-326.
deShazo RD, Swain RE. Diagnostic criteria for allergic fungal sinusitis. J Allergy Clin Immunol 1995;96:24-35.
Braun JJ, Pauli G, Schultz P, Gentine A, Ebbo D, de Blay F. Allergic fungal sinusitis associated with allergic bronchopulmonary aspergillosis: An uncommon sinobronchial allergic mycosis. Am J Rhinol 2007;21:412-416.
Schubert MS, Goetz DW. Evaluation and treatment of allergic fungal sinusitis II. Treatment and follow-up. J Allergy Clin Immunol 1998;102:395-402.
Shah A, Panchal N, Agarwal AK. Concomitant allergic bronchopulmonary aspergillosis and allergic aspergillus sinusitis: A review of an uncommon association*. Clin Exp Allergy 2001;31:1896-1905.
Stevens DA, Schwartz HJ, Lee JY, Moskovitz BL, Jerome DC, Catanzaro A, Bamberger DM, Weinmann AJ, Tuazon CU, Judson MA, Platts-Mills TA, DeGraff AC Jr. A randomized trial of itraconazole in allergic bronchopulmonary aspergillosis. N Engl J Med 2000;342:756-762.