ATS Quick Hits
---
18 year-old woman with 9 months of hemoptysis

Hima Venigandla, DO, Pichapong Tunsupon, MD
Department of Internal Medicine
Division of Pulmonary and Critical Care Medicine
University of Florida, Gainesville, FL
Introduction:
A previously healthy 18-year-old woman presents to the Emergency Department with a complaint of coughing up blood over the past nine months. She describes coughing up approximately 1-2 nickel sized blood clots every morning. She has no further coughing for the rest of the day. She does not have any other associated symptoms and denies chest pain, shortness of breath, wheezing, upper respiratory symptoms, sinus congestion, fevers, chills, rashes, and hematuria. She has not traveled recently. She denies illicit drug use or medication use. She denies any family history of similar symptoms.
She was recently seen by a local pulmonologist for her hemoptysis and underwent an unremarkable bronchoscopy with bacterial, viral, and fungal cultures that returned negative for infection. Notably, the right upper lobe bronchoalveolar lavage (BAL) cell count was composed of 44% neutrophils, 26% lymphocytes, 25% eosinophils, and 4% monocytes. Cytology showed predominantly blood elements with scattered eosinophils and scant pulmonary macrophages, without evidence of malignancy. She underwent extensive serologic testing which was most remarkable for a positive c-ANCA titer of 1:80 as well as a positive anti-proteinase 3 antibody titer of 28. Comprehensive metabolic panel, complete blood count with differential, HIV antibodies, ANA, CRP, Quantiferon, BAL aspergillus antigen, and urinalysis were all negative. She was empirically treated with a 5-day course of oral azithromycin without improvement. Axial and coronal images of her CT chest are shown below.
Images: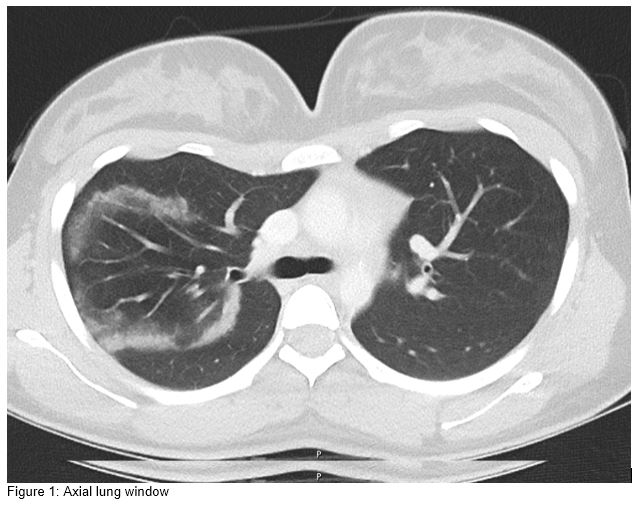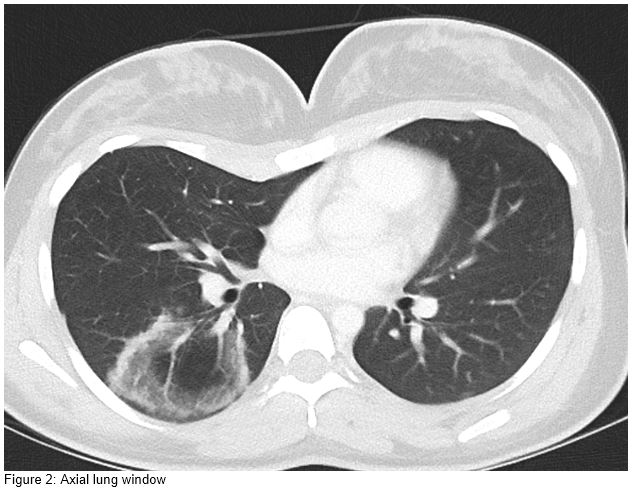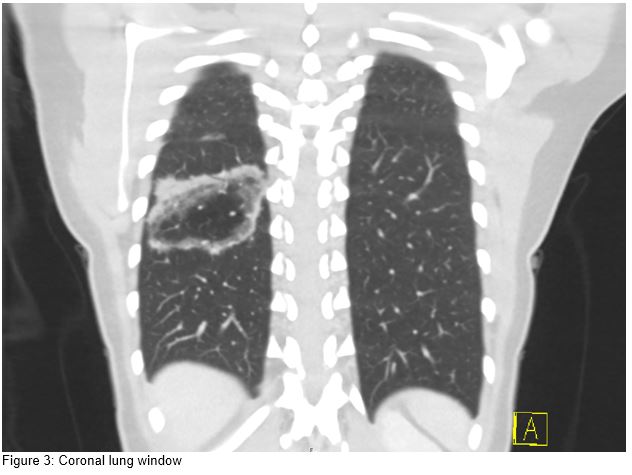 Question:
What is the radiologic finding on the CT chest?
Signet ring sign
Reversed Halo sign
Comet tail sign
Crazy paving sign
B. Reversed Halo Sign
Discussion:
A reversed halo sign, also known as an "atoll sign," is defined as a focal ring-shaped area of ground glass opacity with a defined peripheral rim of consolidation (1). This is what we see in this patient's CT scan images affecting the right upper lobe as well as the right lower lobe. This sign was initially described in patients with cryptogenic organizing pneumonia, but the differential for a reversed halo sign is wide and includes noninvasive fungal infections, pulmonary infarcts, granulomatous disease such as tuberculosis and sarcoidosis, radiofrequency ablation, as well as granulomatosis with polyangiitis (2). Clinicians should also strongly consider invasive fungal infections such as aspergillosis and mucormycosis in immunocompromised patients presenting with this radiologic sign (3). Although this sign is not specific to a particular disease, when combined with patients' clinical data and presentations, it can be helpful in making a diagnosis.
Although our patient's c-ANCA titer returned positive consistent with granulomatosis with polyangiitis (GPA), she subsequently underwent right lower lobe surgical wedge biopsies for definitive diagnosis. Her c-ANCA immunofluorescence result was confirmed by the presence of antigen-specific ELISA for proteinase-3, which literature suggests increases the positive predictive value to 88% (4). Current literature cites the pooled sensitivity of c-ANCA testing for GPA as approximately 66% and a pooled specificity of 98% (5). Thus, in the right clinical context such as our patient's, with radiographic and clinical signs that are consistent with a vasculitic process in the setting of positive autoantibody results, the need for tissue confirmation remains controversial. In our case, after a risk-benefit discussion with the patient, biopsy was pursued for confirmation before subjecting our patient to potential toxic effects of treatment. Histopathology demonstrated diffuse alveolar hemorrhage with focal capillaritis, microabscess formation, and more specifically, multinucleated giant cells, which confirmed the diagnosis of granulomatosis with polyangiitis. She was successfully treated with high dose steroids and Rituximab infusions with resolution of her hemoptysis.
References:
Reversed Halo Sign: A Systematic Review
Venkata N Maturu, Ritesh Agarwal
Respiratory Care Sep 2014, 59 (9) 1440-1449

"Reversed Halo Sign"
Walker, Christopher M. MD; Mohammed, Tan-Lucien MD, FCCP; Chung, Jonathan H. MD
Journal of Thoracic Imaging: August 2011; 26 (3)- W80

The reversed halo sign: update and differential diagnosis.
Godoy MC, Viswanathan C, Marchiori E, et al.
Br J Radiol. 2012;85(1017):1226–1235

Test characteristics of immunofluorescence and ELISA tests in 856 consecutive patients with possible ANCA-associated conditions.
Stone JH, Talor M, Stebbing J, Uhlfelder ML, Rose NR, Carson KA, Hellmann DB, Burek CL.
Arthritis Care Res. 2000;13:424–434.

The Role of Antineutrophil Cytoplasmic Antibody (c-ANCA) Testing in the Diagnosis of Wegener Granulomatosis: A Literature Review and Meta-analysis.
Rao JK, Weinberger M, Oddone EZ, et al.
Ann Intern Med. 1995;123:925–932.