ATS Quick Hits
---
A Helpful Story
Robert A. Case, M.D.1, Catherine Gonsalves, M.D.3, Simon Ho, M.D.4, Brian Stewart, M.D.3  Divya C. Patel, D.O.2, Diana C. Gomez-Manjarres, M.D.2
1Department of Medicine; University of Florida
2Division of Pulmonary, Critical Care, and Sleep Medicine; University of Florida
3Department of Pathology, Immunology and Laboratory Medicine; University of Florida
4Department of Diagnostic Radiology; University of Florida
Case:
A 72-year-old man presented for evaluation of progressive dyspnea with concern for interstitial lung disease (ILD). He had an extensive cardiac history with prior cardiac bypass surgery and atrial appendage exclusion, followed by multiple subsequent radiofrequency ablations targeting arrhythmogenic foci. His last ablation procedure was three years prior to presentation. He reported reduced exertional tolerance, and was only able to ambulate a few blocks. As a part of his work-up, his local pulmonologist had obtained a high-resolution computed tomography (HRCT) of the chest, which showed abnormalities limited to the left upper lobe (Figure 1). He was treated with antibiotic therapy and corticosteroids but had no improvement so a surgical lung biopsy was performed. These images and biopsies were reviewed at our institution. A representative picture of histology from the biopsy is shown in Figure 2. After his visit to the ILD clinic, a CT angiogram of the chest was obtained and is shown in Figure 3.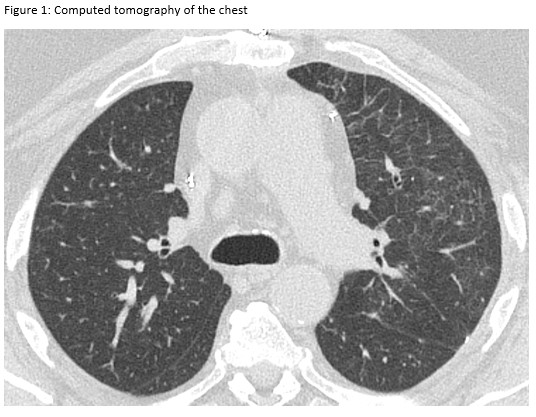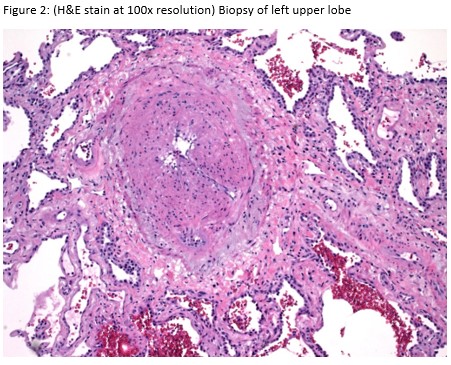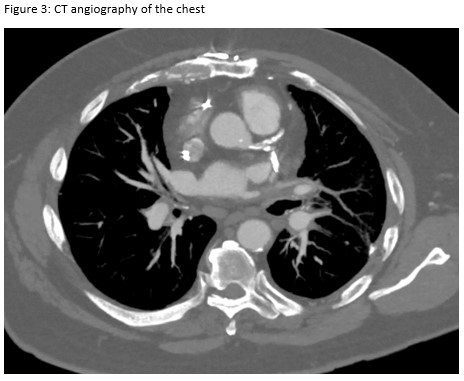 Question:
What is the most likely diagnosis based on this information?
Interstitial lung disease
Pulmonary embolism
Adenocarcinoma in situ
Pulmonary vein stenosis
Atypical pneumonia
D. Pulmonary vein stenosis
Discussion:
This patient presented with subacute dyspnea and focal interlobular septal thickening involving the left upper lobe on HRCT of the chest (Figure 1). His surgical lung biopsy showed marked medial and intimal thickening of small pulmonary arteries and veins (Figure 2) concerning for significant pulmonary vasculopathy. His procedural history was the key to identifying the etiology of his symptoms. To confirm this diagnosis, a CT angiogram with a protocol to highlight the pulmonary veins was performed. The image revealed high grade stenosis of the left upper pulmonary vein at the ostium with distal reconstitution (Figure 3). He was referred to the interventional cardiology service who performed right heart catheterization with isolated angiography of the left pulmonary artery followed by trans-septal puncture to access the left upper pulmonary vein. Balloon angioplasty with stent placement was performed. A repeat CT angiogram after the procedure shows the stent within the left upper pulmonary vein (Figure 4). Our patient's symptoms improved dramatically after placement of the stent and he was able to return to routine physical activity including playing sports.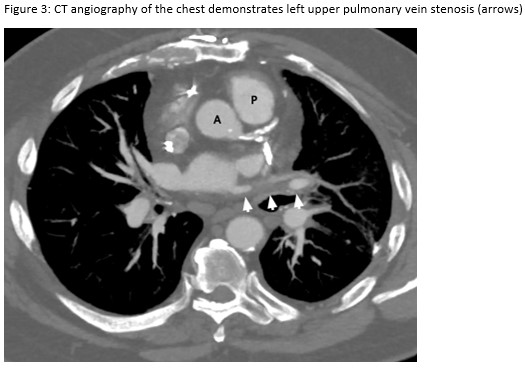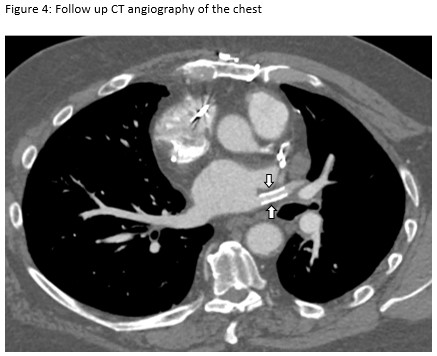 Pulmonary vein stenosis (PVS) is a rare and under recognized complication of radiofrequency ablations in patients with atrial fibrillation. It can also be seen in patients with leukemia, lymphoma, fibrosing mediastinitis, and after cardiac surgery. 1, 2 The reported incidence ranges from 1 to 42% but the true incidence is unknown since the diagnosis is usually delayed and consensus statements do not recommend routine post-ablation screening.  More recent studies report lower incidence rates; this has been attributed to improvements in procedural technique. 4 Most patients will develop symptoms such as dyspnea, pleuritic chest pain or low volume hemoptysis within seven months after the procedure, but some will be asymptomatic.5 Chest imaging findings are often non-specific but can be reflective of pulmonary congestion (include Kerley B Lines on chest radiograph and interlobular septal thickening on CT) and/or venous infarction.6 The diagnosis can be made on CT angiography with contrast, transesophageal echocardiography or cardiac magnetic resonance imaging.6,7 Based on the reduction  of the luminal diameter the stenosis can be mild (<50%), moderate (50-70%) or severe (>70%), but interestingly the severity does not correlate with patient symptoms.  There is limited data on PVS management, but the recommendation is to treat patients with severe symptomatic disease. The preferred therapeutic intervention is PV stenting as it has a lower rate of PV restenosis compared to balloon angioplasty.8
References
Pazos-Lopez P, Garcia-Rodriguez C, Guitian-Gonzalez A, et al. Pulmonary vein stenosis: Etiology, diagnosis and management. World J Cardiol. 2016;8(1):81-88.

Kumar N, Aksoy I, Pison L, et al. Management of Pulmonary Vein Stenosis Following Catheter Ablation of Atrial Fibrillation. J Atr Fibrillation. 2014;7(1):1060.

Chen SA, Hsieh MH, Tai CT, Tsai CF, Prakash VS, Yu WC, Hsu TL, Ding YA, Chang MS. Initiation of atrial fibrillation by ectopic beats originating from the pulmonary veins: electrophysiological characteristics, pharmacological responses, and effects of radiofrequency ablation. Circulation. 1999; 100:1879–1886.

Rostamain A, Narayan S, Thomson L, et al. The incidence, diagnosis, and management of pulmonary vein stenosis as a complication of atrial fibrillation ablation. J Interv Card Electrophysiol. 2014;40(1):63-74.

Packer D, Keelan P, Munger T, et al. Clinical presentation, investigation, and management of pulmonary vein stenosis complicating ablation for atrial fibrillation. 2005;111(5):546-554.

Porres D, Morenza O, Palisa E, et al. Learning from the pulmonary veins. 2013;33(4):999-1022.

Starvrakis S, Madden G, Stoner J, Sivaram C. Transesophageal echocardiography for the diagnosis of pulmonary vein stenosis after catheter ablation for atrial fibrillation: a systematic review. Echocardiography. 2010;27(9):1141-6.

Fender E, Widmer J, Hodge D, et al. Severe Pulmonary Vein Stenosis Resulting From Ablation for Atrial Fibrillation. Presentation, Management, and Clinical Outcomes. 2016;134:1812–1821
Acknowledgements: Pathology slides were transmitted for review to our pathology group by Dr. Brian Bockelman of Lee Health Laboratories, Fort Myers, FL.