ATS Quick Hits
---
A Hole in the Roof
R.G. Thomas MD1, M.E. Hurwitz MD1, S.T. Maurer MD2, D.P. Gibson MD3, D.N. Homnick MD, MPH1. 
1Pediatric Pulmonology, Michigan State University, East Lansing, MI.  2Pediatric Cardiology, University of Michigan, Ann Arbor, MI.  3Pediatric Radiology, Beaumont Children's Hospital, Royal Oak, MI.
Case:
A 12-month-old boy presented for evaluation of recurrent bronchiolitis and hypoxemia. He was repeatedly admitted for acute respiratory failure at age 6, 9 and 11 months old.  At 6 and 9 months of age he was positive for RSV but there was no clear infectious source in the third admission.  He required oxygen support with all admissions.  He had a normal echocardiogram at 2 and 11 months of age. At 13 months old he was seen by his pediatrician and noted to have an oxygen saturation of 88% on room air with no clear inciting illness which prompted another admission and pulmonary consultation.  CT of the chest demonstrated the following:
Figure 1: Chest CT findings.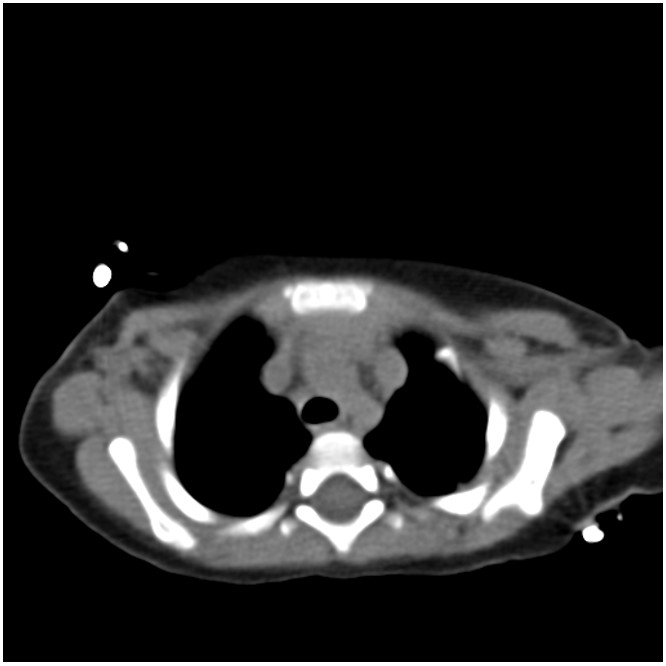 Question:
What abnormality does the above chest CT reveal?  What is the next best test to evaluate this abnormality?
Right sided aortic arch and thoracic MRI
Persistent left superior vena cava and cardiac catheterization
Mediastinal mass and PET scan
Tracheomalacia and bronchoscopy
B. Persistent left superior vena cava and cardiac catheterization
The chest CT reveals a persistent left superior vena cava (PLSVC).  Further evaluation of this is best done by cardiac catherization which revealed persistent left superior vena cava connecting directly to the roof of the left atrium (LA).
Figure 2: Cardiac catheterization reveals persistent left superior vena cava connecting directly to the roof of the left atrium (See arrow).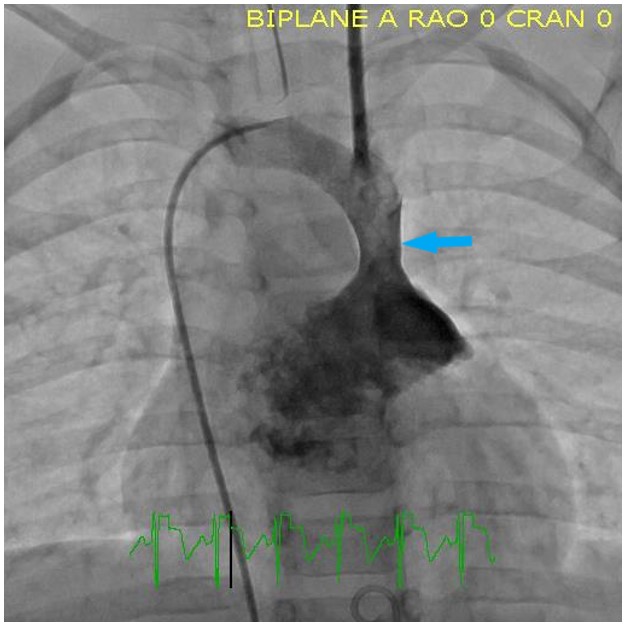 Discussion:
PLSVC is uncommon and is the result of persistence of the left superior cardinal vein. The reported incidence in the general population is 0.3-0.5%1 and the incidence is 3-12% in children with congenital heart disease.  PLSVC is a very uncommon cause of chronic hypoxemia1 because it usually inserts into the right atrium. It is rare for the PLSVC to drain into the LA, and if so, occurs via an unroofed coronary sinus or direct insertion into the LA.  PLSVC draining to the LA causes hypoxemia via right to left extracardiac and extrapulmonary shunt. The degree of shunting varies with physiologic conditions and may be increased during pulmonary infection and may be almost absent when pulmonary pressure is normal.  PLSVC predisposes to embolic complications: stroke, cerebral abscess, and renal/mesenteric infarcts.2 Diagnosis may involve multiple imaging techniques: echocardiography, contrast echocardiography, cardiac MRI, or contrast enhanced CT. As in this case, routine echocardiography may miss the diagnosis.3 During contrast echocardiography contrast may need to be injected in the arm on the side of the lesion. The treatment of PLSVC involves endovascular or surgical intervention depending on the patient's anatomy.4 Endovascular closure has been performed successfully and is less invasive.  Our patient's PLSVC was occluded with a 12mm vascular plug and he had no further episodes of hypoxemia.  The diagnosis can be difficult as it can be easily missed on routine echocardiogram especially in young children not cooperating with testing. The common clue on echo to look for a PLSVC is a dilated coronary sinus but this is absent when the vessel inserts directly into the atrium. PLSVC with atypical insertion should be considered in the differential of chronic intermittent hypoxemia but requires a very high index of suspicion. 
References
Povoski SP, Khabiri H. Persistent left superior vena cava: review of the literature... World J Surg Oncol. 2011

Kougias P, Peden EK, Lin P, Buergler J, Lumsden AB. Endovascular occlusion of right to left arteriovenous shunt associated with persistent left superior vena cava. J Vasc Surg. 2006

Haas C, Doernberger V. LETTER TO THE EDITOR: Persistent left superior vena cava in a patient with congenital heart disease. Open Cardiovasc Thorac Surg J. [eLetter] 2009

Troost E, Gewillig M, Budts W.  Percutaneous closure of a persistent left superior vena cava connected to the left atrium. Int J Cardiol. 2006