ATS Quick Hits
---
A Rare Finding in post-ROSC Bedside Echocardiography
Authors & Affiliations
Daniel Fuchs, DO MS
Resident Physician
Denver Health Residency in Emergency Medicine
Denver Health Hospital
University of Colorado Hospital, Denver, CO
Tim Tran, MD
Assistant Professor
Department of Anesthesiology, Critical Care Division,
University of Colorado Hospital, Aurora, CO
Marianne Wallis, MD
Assistant Professor
Department of Emergency Medicine
Department of Anesthesiology, Critical Care Division,
University of Colorado Hospital, Aurora, CO
Case
A 23-year old female with a reported history of IV drug abuse presents to the emergency department (ED) via EMS with complaints of anxiety, chest pain and shortness of breath. After initially declining placement on a cardiac monitor, she became significantly agitated followed by agonal breathing and subsequently suffered cardiac arrest. CPR was started and the patient was intubated with return of spontaneous circulation after one round of ACLS. Bedside point of care ultrasound (POCUS) demonstrated the cardiac findings below. Laboratory evaluation also demonstrated a significant metabolic acidosis, renal failure, hyperkalemia, and anemia.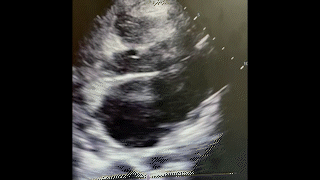 Question
What is the significant finding on this bedside ultrasound?
Significantly reduced LV ejection fraction
Pericardial effusion
Mitral valve vegetation projecting into the left atrium
Tricuspid valve vegetation with projection into the right atrium
C. Mitral valve vegetation projecting into the left atrium
Discussion
The point of care ultrasound done in the ED demonstrated a large mitral valve vegetation (answer choice C is correct). Although an uncommon finding in post-arrest echocardiography, recognition of significant valvular disease is a critical finding, which in this patient ultimately helped determine the cause of cardiac arrest. The estimated left ventricular ejection fraction (LVEF) does not appear grossly reduced (answer choice A is incorrect). Additionally, there appears to be no pericardial fluid collection nor is there obvious tricuspid valve vegetation on this POCUS (answer choices B and D are incorrect). Sudden death in acute infective endocarditis has been reported. In one case review in the UK, 0.5% of sudden cardiac death over the course of 16 years was attributed to endocarditis1. There are several mechanisms by which this can occur including acute mitral valve regurgitation leading to hemodynamic collapse, coronary artery embolism, and refractory septic shock.2,3
The mechanism of cardiac arrest in this patient was likely multifactorial; further diagnostic work up in this patient demonstrated multiple septic embolic processes including cerebral, splenic, and renal infarcts. She was found to be in acute renal failure and was initiated on renal replacement therapy. She had refractory shock and hypotension post arrest. While color Doppler images were not available to assess mitral regurgitation in this patient, it is likely this contributed to her hemodynamic collapse. The blood cultures drawn in the emergency department grew Enterococcus faecalis.
Although TEE performed by skilled echocardiographers is the gold standard for diagnosis of endocarditis and resulting valvular insufficiency or stenosis, TTE has as sensitivity of roughly 50-70% for identifying infective endocarditis and a specificity of about 94%.4 When apparent on POCUS, intensivists and emergency physicians should be able to recognize this critical finding as it is often a diagnosis which can drastically affect medical and surgical management.
References
Cooper STE, Westaby JD, Griffin KJ, Sheppard MN. The role of endocarditis in sudden cardiac death: highlighting the value of the autopsy, pathological features and cardiac complications. Cardiovasc Pathol. 2021;50:107292.

Castelli JB, Almeida G, Siciliano RF. Sudden death in infective endocarditis. Autops Case Rep. 2016;6(3):17-22.

Stout KK, Verrier ED. Acute valvular regurgitation. Circulation. 2009;119(25):3232-3241.

Cahill TJ, Prendergast BD. Infective endocarditis. The Lancet. 2016;387(10021):882-893.