ATS Quick Hits
---
All in the loop
Thomas W. DeCato, M.D.
Pulmonary & Critical Care Medicine Fellow
University of Utah and Intermountain Medical Center
Case
A 57 year-old man with a history of renal cell carcinoma presented with subacute cough and dyspnea on exertion.
The patient had no other history of lung disease and was a lifetime non-smoker. Vital signs and cardiopulmonary exam were normal. Spirometry was obtained as part of his clinic visit with the flow-volume loop prompting a further diagnostic test and definitive treatment.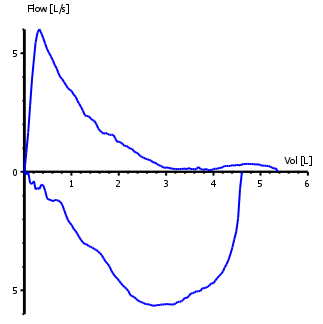 What is the diagnosis?
This patient has a unilateral mainstem bronchus obstruction. The flow-volume loop shows both an end-inspiratory and end-expiratory tail and is most commonly known as a biphasic flow-volume curve. This finding has also been described as "two compartments." A CT chest was obtained which showed an obstructing right mainstem bronchus lesion.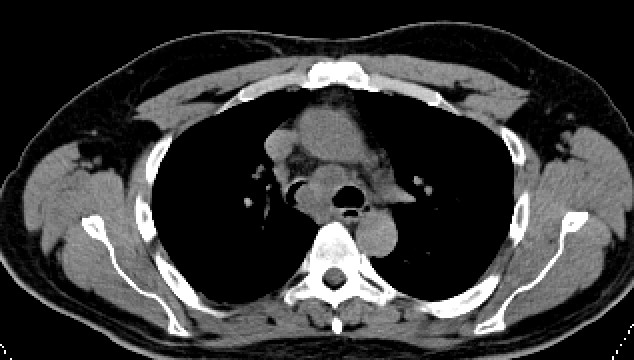 The patient underwent interventional bronchoscopy with electrocautery snare and cryotherapy. The lesion was found to be metastatic renal cell carcinoma. After this intervention, the patient's cough and dyspnea on exertion resolved as did the biphasic pattern upon repeat spirometry. Mild concavity was evident in the flow-volume loop post-procedure and spirometry was consistent with mild obstruction.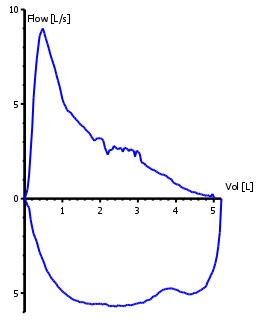 The biphasic spirogram was first described by Gascoigne et al. in 1990. This characteristic pattern is the result of the asynchronous filling and emptying of each lung. In this case, the normal left lung has normal inspiratory and expiratory flow, which is then followed by the abnormal right lung. The presence of the obstruction causes delayed flows and appears as a near straight line on the inspiratory and expiratory limbs due to the fixed resistance in effect across the obstruction. The degree of obstruction is important with lesions obstructing <25% or >90% of the mainstem bronchus less likely to show a biphasic pattern. The differential diagnosis when this pattern is present is fairly limited and shown in table 1. Tracheobronchomalacia is a commonly named etiology, however typically only the expiratory limb appears to show the biphasic pattern in this condition.
Common causes of biphasic flow-volume loop
Bronchial carcinoma or metastases
Macleod's syndrome (unilateral emphysema)
Single lung Transplantation
Granulation tissue at anastomosis post lung transplant
Granulomatosis with polyangiitis
Sarcoidosis
Amyloidosis
Developmental Cartilagenous Ridge
Bronchogenic cyst
(Images  and spirograms are courtesy of Matthew J. Hegewald, M.D.)
References:
Agrawal A, Sahni S, Marder G, Shah R, Talwar A. Biphasic flow-volume loop in granulomatosis with polyangiitis related unilateral bronchus obstruction. Respiratory Investigation 2016;54:280-283.

Gascoine AD, Corris PA, Dark JH, Gibson GJ. The biphasic spirogram: a clue to unilateral narrowing of a mainstem bronchus. Thorax 1990;45:637-638.

Ko Y, Yoo J, Yi C, Lee K, Jeon K, et al. Changes in the Flow-Volume Curve According to the Degree of Stenosis in Patients With Unilateral Main Bronchial Stenosis. Clinical and Experimental Otorhinolaryngology 2015;8(2):161-166.

Mazzei JA, Barro A, Mazzei ME, Portas T, Esteva H. Biphasic flow volume curve due to obstruction of main bronchus by bronchogenic cyst. Respiratory Medicine CME 2011;4:116-118.

Villaran Y, Sekela ME, Burki NK. Maximal Expiratory Flow Patterns After Single-Lung Transplantation in Patients With and Without Chronic Airways Obstruction. CHEST 2001;119:163-168.