ATS Quick Hits
---
Asymptomatic Pneumoperitoneum – Is This Possible?
Nikhil Jagan, Lee E. Morrow
Division of Pulmonary and Critical Care Medicine
Creighton University Medical Center
Omaha, Nebraska
Case
A 66-year-old man with a history of polysubstance abuse and squamous cell carcinoma of the larynx (treated with chemotherapy and radiation) presented to the hospital for altered mental status and a week-long cough.  Given his subsequent clinical deterioration, he was emergently intubated.
A chest x-ray done prior to intubation showed concern for free air below the right diaphragm (Image 1).  A subsequent CT scan showed dense left lower lobe consolidation and confirmed a gaseous collection between the right hemidiaphragm and the liver (Image 2).
Images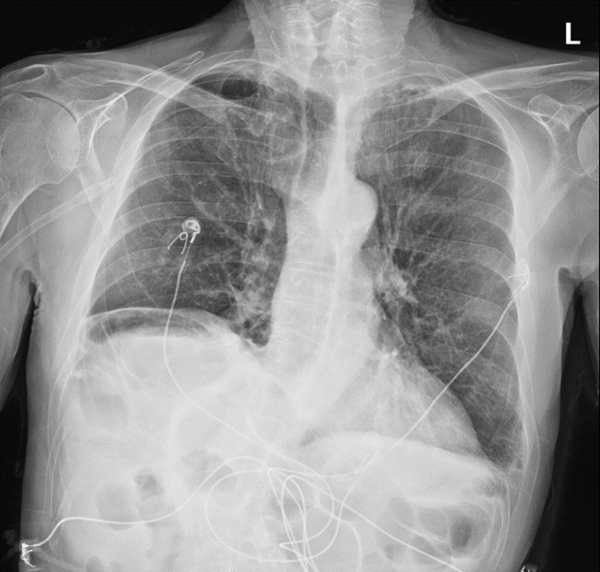 Image 1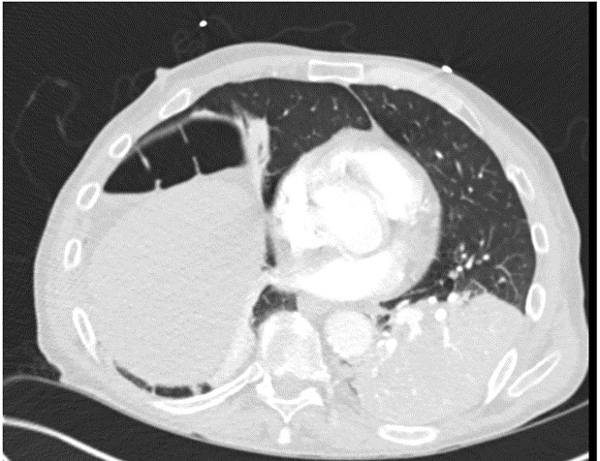 Image 2
Question
What is the next step in managing this patient?
Consult gastroenterology for upper and lower endoscopy
Monitor the gaseous collection with serial imaging
Consult general surgery to assess the cause of the gaseous collection in his abdomen
Ignore the gas and treat his pneumonia with antibiotics
Answer: D.  Ignore the gas and treat his pneumonia with antibiotics
Discussion
Chilaiditi's Sign is the radiographic eponym used to describe interposition of the transverse colon between the liver and the diaphragm (See Image 3, white arrow).  Although it is described as a very rare finding in the literature, it is actually seen quite often in clinical practice.  Given the air-filled nature of the large intestine, it is often mistaken for free peritoneal air.  However, the presence of haustral markings along the margins of this 'free air' identifies its true anatomic location within the colon (Image 3, black arrow). 
Chilaiditi's Sign is typically an incidental finding in asymptomatic patients undergoing abdominal imaging for other reasons.  When associated with symptoms – typically abdominal pain, nausea and/or vomiting – it is called Chilaiditi's Syndrome. (1)  Predispositions to this syndrome include liver cirrhosis and ascites. (2,3)  Although Chilaiditi's Syndrome does not require any definitive intervention, it is important to recognize this condition in patients undergoing percutaneous interventions or colonoscopy as it may increase the risk of iatrogenic perforation. (4,5)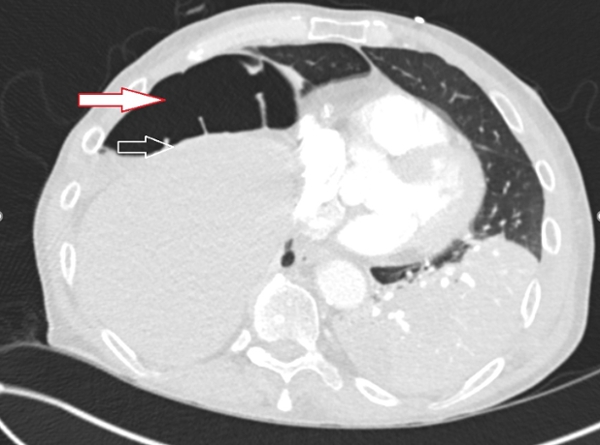 Image 3
References:
Aguilar-García, C. R., & García-Acosta, J. (2017).  Chilaiditi's sign and syndrome. Case report.  Revista medica del Instituto Mexicano del Seguro Social, 55(1), 114-7.

Nakagawa, H., Toda, N., Taniguchi, M., Ibukuro, K., & Tagawa, K. (2006).  Prevalence and sonographic detection of Chilaiditi's sign in cirrhotic patients without ascites.  American Journal of Roentgenology, 187(6), W589-W593.

Moaven, O., & Hodin, R. A. (2012).  Chilaiditi syndrome: a rare entity with important differential diagnoses. Gastroenterology & hepatology, 8(4), 276-8.

Joo, Y. E. (2012).  Chilaiditi's sign.  The Korean Journal of Gastroenterology, 59(3), 260-261.

Nair, N., Takieddine, Z., & Tariq, H. (2016).  Colonic Interposition between the Liver and Diaphragm: "The   Chilaiditi Sign".  Canadian Journal of Gastroenterology and Hepatology, 2016, 2174704.