ATS Quick Hits
---
Fever, chest pain, and pulmonary nodules
Gordon Gray Still, MD
University of Nebraska Medical Center
Intro:
A 15 year old previously healthy female from Missouri presented with fever and sharp bilateral lower lateral chest discomfort that began suddenly without any known inciting events. The chest pain continued intermittently over a 3-week period and night sweats developed. There was minimal relief with non-steroidal anti-inflammatory medication. The history was negative for cough, hemoptysis, weight loss or travel outside of the country. There is a pet bird in the house.
Image:
Chest CT without contrast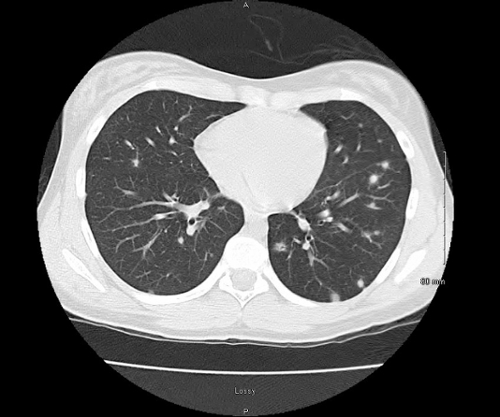 Question:
What is this type of granulomatous disease?
Coccidioidomycosis
Histoplasmosis
Tuberculosis
Blastomycosis
Sarcoidosis
Answer and Discussion
Histoplasma capsulatum is endemic to North, Central and South American and is the fungal agent responsible for histoplasmosis. The primary risk factor for histoplasmosis is exposure in an endemic area, most commonly the Ohio River and Mississippi River basins in the United States. Typical cases result from sporadic exposure and the clinic spectrum is broad, ranging from asymptomatic to severe life threatening dissemination. Symptoms of histoplasmosis include fever, chills, cough, dyspnea and chest pain. Pulmonary nodules on a CXR or CT scan are common radiographic findings.  Most cases are self-limited and do not require testing or anti-fungal therapy.
Diagnosis of histoplasmosis involves clinical, radiographic and diagnostic methods that involve histopathology with staining, fungal culture, antigen detection and serology.  If tissue is obtained for any reason then common histopathologic findings include granulomatous formation with lymphohistiocytic aggregates and mononuclear cell infiltrates.  Fungal staining of the tissue is often positive.  In patients with chronic pulmonary histoplasmosis the bronchoalveolar lavage fungal culture is often positive for histoplasmosis.  Antigen detection of histoplasmosis in the serum and urine of acutely ill individuals is very useful, although limited due to decreased sensitivity in chronic disease. Serology is used to make the diagnosis of localized pulmonary histoplasmosis and in subacute or chronic infection, but limited in acute cases since serology is typically negative for the first 4-6 weeks after inoculation.  Serology is also limited in immunocompromised patients because of an inability to mount a humoral immune response.
Management of histoplasmosis depends on the clinical presentation, but typically involves an appropriate antifungal if the patient is clinically symptomatic or immunocompromised.  In immunosuppressed individuals, therapy also involves reconstitution of the immune system when possible by reducing or withdrawing immunosuppressant therapy. Antifungal therapy is required in acute infection, chronic pulmonary disease, and progressive disseminated histoplasmosis. Clinical manifestations that may not require antifungal management include asymptomatic pulmonary nodules, broncholithiasis and fibrosing mediastinitis. Pulmonary nodules typically do not require treatment as they often represent an older, inactive disease; however, patients who are symptomatic with multiple nodules and chest adenopathy should be managed with an antifungal agent.
Mild to moderate acute pulmonary histoplasmosis can be managed with itraconazole while the most severely ill patients will require amphotericin B and hospitalization. Other agents include voriconazole, posaconazole, and newer triazoles, which are active in vitro against H. capsulatum and clinically effective in a few case reports and series. In the rare circumstances that histoplasmosis causes acute respiratory distress syndrome, treatment with adjunctive steroids may contribute to a more favorable outcome.
References:
Knox K, Hage C. Histoplasmosis. Proc Am Thorac Soc Vol. 7 pp 169-172, 2010.

Azar M, Hage C. Clinical perspectives in the diagnosis and management of histoplasmosis. Clin Chest Med 38, pp 403-415, 2017.