ATS Quick Hits
---
It's Just Water Vapor
Jacob Kaslow, MD
Pediatric Pulmonary Fellow, Monroe Carell Jr. Children's Hospital at Vanderbilt, Nashville, TN
Case:
A 16-year-old female with history of obesity, scoliosis and ½ pack-per-day tobacco smoking history for the past two years presented with acute onset of cough, shortness of breath and headache associated with perioral cyanosis. Despite escalating respiratory support and broad-spectrum antibiotics, she ultimately required intubation and subsequent placement onto extracorporeal membrane oxygenation (ECMO). All infectious and rheumatologic disease workup was negative and she responded well to high dose steroids. A bronchoscopy was notable for diffuse, bilateral mucus plugging and bronchoalveolar lavage fluid showed 77% macrophages, 11% neutrophils, 8% eosinophils, 3% basophils and 1& lymphocytes, although this was obtained while on steroids. Her initial chest radiograph (Image 1) and representative slice of her chest CT scan (Image 2) are shown below: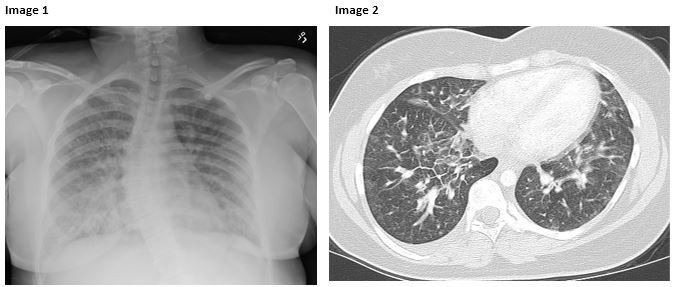 Question:
Based on presentation and imaging, which of the following aspects of her history would provide the most insight towards underlying etiology?
History of recent electronic cigarette use
Recent travel
Contact with an individual recently incarcerated
Recent trauma
A History of recent electronic cigarette use
Discussion:
This patient reports inhaling a novel electronic cigarette (e-cigarette) flavor just hours prior to onset of her symptoms but has been using e-cigarettes with nicotine and intermittently combined with THC for the past 6 months. She admitted to using combustible cigarettes when questioned about smoking but was not forthcoming with her use of e-cigarettes, highlighting the difficulty in diagnosing and determining underlying etiology in these patients. The bilateral bibasilar opacities on chest imaging and diffuse ground-glass appearance on chest CT are consistent with inhalational injuries seen in other cases of ARDS secondary to e-cigarette use.1
E-cigarettes are inhalational devices that produce aerosols by heating a liquid that can contain a multitude of chemicals, including flavoring, nicotine, THC or other additives. Initially marketed as a safer alternative to combustible cigarettes, e-cigarettes have been linked to a heterogeneous collection of pneumonitis patterns with manifestations of lung injury depending on the amount and characteristics of compounds inhaled. Initial symptoms often include cough, shortness of breath, and fever but more severe presentations such as hemoptysis or acute respiratory failure have been reported.2
While the underlying mechanism of lung injury is unknown, there is substantial evidence that e-cigarette aerosols can induce acute endothelial cell dysfunction and promote formation of reactive oxygen species/oxidative stress, although the long term effects of e-cigarettes remain unknown.3 E-cigarettes have been shown to contain toxic compounds such as nicotine, carbonyls, volatile organic compounds (such as benzene and toluene), and bacterial endotoxins and fungal glucans.4 No universal treatment plans have been established, but steroids have been shown to be effective in some patients.5
References:
Henry TS, Kanne JP, Kligerman SJ. Imaging of Vaping-Associated Lung Disease. N Engl J Med. [Epub ahead of print on 2019 Sep 6]. doi: 10.1056/NEJMc1911995.

Layden JE, Ghinai I, Pray I, et al. Pulmonary Illness Related to E-Cigarette Use in Illinois and Wisconsin - Preliminary Report. N Engl J Med. [Epub ahead of print on 2019 Sep 6]. doi: 10.1056/NEJMoa1911614.

Eaton DL, Kwan LY, Stratton K, eds. Public Health Consequences of E-Cigarettes. Washington (DC): National Academies Press; 2018:1-16.

Christiani DC. Vaping-Induced Lung Injury. N Engl J Med. [Epub ahead of print on 2019 Sep 6]. doi: 10.1056/NEJMe1912032. 

Schier JG, Meiman JG, Layden J, et al. Severe Pulmonary Disease Associated with Electronic-Cigarette-Product Use - Interim Guidance. MMWR Morb Mortal Wkly Rep 2019;68:787-90.