Critical Care Quick Hits
---
The Moving Target
Siddharth Dugar MD
Critical Care fellow
Cleveland Clinic, OH
Ajit Moghekar MD
Pulmonary and Critical Care Medicine
Cleveland Clinic, OH
A 45 year old obese female with PMH of hyperlipidemia, hypertension, and asthma on inhaled steroids presents to hospital for gallstone pancreatitis and shock.  She underwent open cholecystectomy and was intubated for the procedure. 3 days post-surgery, she continues to remain on ventilator. Now she developed fever with increasing oxygen requirement.
A bedside chest ultrasound is performed to determine the cause of increasing oxygen requirement
The ultrasound image below is highly specific of what condition?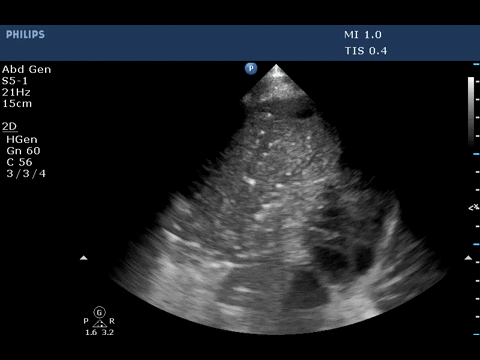 The ultrasound image above shows dynamic air bronchogram.
Portable bedside chest X-ray in the present case showed alveolar consolidative pattern.  Based on X-ray, it is difficult to differentiate atelectasis from pneumonia. Bedside ultrasound can be a valuable tool to differentiate between these conditions.
Acute alveolar consolidation is characterized by the tissue-like sign or shred sign.  The tissue-like sign is appearance of lung similar to liver or spleen, which is echoic with trabeculations and seen in trans-lobar consolidation. The shred sign appears at the contact point of consolidated lung with aerated lung as an irregular hyper-echoic line and seen in non-trans lobar consolidation. The sensitivity and specificity of ultrasound to detect acute alveolar consolidation, when both these signs are present is 90%and 98% respectively. The acute alveolar consolidation can be from pneumonia or resorbtive atelectasis.
Air bronchogram is described as a punctiform or linear hyperechoic artifacts within the consolidation. It is considered dynamic if there is >1mm movement with air entry and is due to centrifugal movement of gas bubbles in bronchus, a sign of airway patency. The specificity and positive predictive value of dynamic air bronchogram in presence of alveolar consolidation to predict pneumonia is 94% and 97% respectively.
Reference:
Lichtenstein D, Mezière G, Seitz J. The dynamic air bronchogram. A lung ultrasound sign of alveolar consolidation ruling out atelectasis. Chest. 2009 Jun; 135(6):1421-5.

Lichtenstein D, Lascols N, Mezie` re G, et al. Ultrasound diagnosis of alveolar consolidation in the critically ill. Intensive Care Med 2004; 30:276–281.

Lichtenstein D, Mezie` re G. Relevance of lung ultrasound in the diagnosis of acute respiratory failure: the BLUE-protocol. Chest 2008; 134:117–125

Lichtenstein D. Lung ultrasound in the critically ill. Ann Intensive Care. 2014 Jan 9;4(1):1.