ATS Quick Hits
---
Not All That Glitters is Bird
Daniel Kotok, MD1, Anas Hadeh, MD1
Department of Pulmonary and Critical Care Medicine
Cleveland Clinic Florida, Weston, FL
Case:
A 71-year-old female presents to our pulmonary clinic for evaluation of abnormal computed tomography (CT) chest obtained as part of routine pre-transplant evaluation for end-stage renal disease secondary to isolated pauci-immune glomerulonephritis. She was not treated for this because of end-stage disease at time of diagnosis and isolated renal involvement. Age-appropriate screening is normal. She has no respiratory symptoms and has never smoked. There are two cats and two birds at her household. Vital signs are notable for a BMI of 17.8. Physical exam is otherwise normal. Routine labs including complete blood count and complete metabolic panel were unrevealing. Antineutrophil cytoplasmic antibodies (ANCA, myeloperoxidase and proteinase 3) were not detected. Interferon-gamma release assay (IGRA) was negative. No allergen-specific testing has been performed.
Images: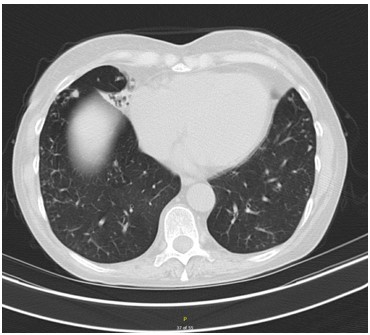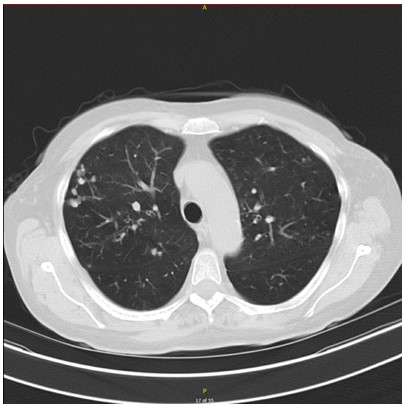 Question:
What is the most likely diagnosis?
Hypersensitivity pneumonitis
Pulmonary granulomatosis with polyangiitis
Metastatic cancer
Non-tuberculous mycobacterial infection
D. Non-tuberculous mycobacterial infection
Discussion:
Non-tuberculous mycobacteria are a large group of soil and water-inhabiting bacteria encompassing over 150 species with varying degrees of virulence and predilection for patients with certain comorbid conditions such as pre-existing lung disease and immunodeficient states. In North America, the prevalence of NTM is higher in the Southeastern region stretching from Texas to Florida (1).
A distinct phenotype of patients with NTM infection has been dubbed "Lady Windermere syndrome" (2), named after the heroine of a play written by Oscar Wilde known for her propensity for elegance necessitating chronic cough suppression. The prototypical patient is a post-menopausal, thin woman with disease involving the right middle lobe and lingula.
Some of the radiographic characteristics, although not specific for NTM infection, include centrilobular nodules (orange arrow), tree-in-bud opacities (orange arrowhead) bronchiectasis affecting the right middle lobe and lingula (yellow arrow), consolidation (seen in axial CT above) and cavitation. (1, 2)
Epidemiologic risk factors for NTM infection overlap with those of tuberculous mycobacterial infection (i.e. tuberculosis, TB), including higher risk of infection in immunosuppressed patients, in those with renal dysfunction, poor nutritional status (particularly in those with BM < 18.5) and older age in developed countries among others. (3) As such, exclusion of this diagnosis and appropriate patient isolation and collection and handling of specimens in suspected cases is important in the prevention and spread of TB.
Hypersensitivity pneumonitis (A) can present with various radiographic findings on CT depending on the stage of the disease, ranging from scarce centrilobular nodules, homogenous ground-glass opacities (GGO) and areas of hypoattenuation and hypovascularity in a "mosaic attenuation" to usual interstitial pneumonitis with advanced fibrosis (4). The lack of GGOs, scarcity of nodules and presence of bronchiectasis and consolidation argue against this diagnosis.
Pulmonary involvement in granulomatosis with polyangiitis (B, also known as Wegener's granulomatosis) is common and seen in up to 90% of patients. Clinical and radiographic abnormalities are highly variable. Commonly described radiographic abnormalities include nodules with various sizes in a random distribution relative to the secondary pulmonary nodule with or without cavitation, pulmonary hemorrhage and wedge consolidation among others (5). While this diagnosis cannot be entirely excluded without biopsy demonstrating non-necrotizing granulomas, the lack of pulmonary symptoms, negative ANCAs and presence of microbiologic evidence of NTM make this diagnosis less likely.
Lastly, metastatic cancer (C) commonly presents as multiple peripheral nodules with or without evidence of lymphangitic spread. Although the appearance and location of radiographic abnormalities varies depending on the primary site of malignancy, localized grouping of nodules is not characteristic of metastatic disease (6). In this asymptomatic patient with normal age-appropriate screening, the diagnosis of metastatic disease is unlikely.
As part of her further evaluation, the patient underwent bronchoalveolar lavage demonstrating the presence of non-nocardia acid-fast bacilli in samples obtained from the right middle lobe with culture growing Mycobacterium avium complex 12 days after the procedure, thus confirming the diagnosis of NTM.
References
Griffith DE et al. An official ATS/IDSA statement: Diagnosis, treatment, and prevention of nontuberculous mycobacterial diseases. Am J Respir Crit Care Med 2007;

Haworth CS et al. British Thoracic Society guidelines for the management of non-tuberculous mycobacterial pulmonary disease (NTM-PD). Thorax 2017;

Cahuayme-Zuniga LJ, Brust KB. Mycobacterial Infections in Patients With Chronic Kidney Disease and Kidney Transplantation. Adv Chronic Kidney Dis 2019;

Silva CIS, Churg A, Müller NL. Hypersensitivity Pneumonitis: Spectrum of High-Resolution CT and Pathologic Findings. Am J Roentgenol 2007;188:334–344.

Martinez F et al. Common and uncommon manifestations of Wegener granulomatosis at chest CT: Radiologic-pathologic correlation. Radiographics 2012;32:51–69.

Seo JB, Im JG, Goo JM, Chung MJ, Kim MY. Atypical pulmonary metastases: Spectrum of radiologic findings. Radiographics 2001;21:403–417.