ATS Quick Hits
---
Snap Crackle Pop: Respiratory Failure in a Term Infant
Megan Craig, MD. John Naheedy, MD. Daniel Lesser, MD.
Divisions of Respiratory Medicine and Radiology.
University of California San Diego, Rady Children's Hospital San Diego
Case:
A previously healthy term 3-month-old male presented to his pediatrician's office with one day of worsening tachypnea and grunting. Initial chest radiograph revealed severe bilateral patchy alveolar opacification, prompting his pediatrician to refer him to the emergency department. On arrival, he was in extremis with respiratory rate of 60 breaths per minute and SpO2 of 58% in room air. Physical exam noted an ashen, pale, listless and minimally responsive infant with severe retractions, coarse breath sounds bilaterally, and crepitus over the anterior chest wall and neck. Repeat chest radiograph performed prior to the infant receiving any positive pressure ventilation revealed extensive pneumomediastinum. He was transferred to the pediatric intensive care unit where he further decompensated, requiring intubation and mechanical ventilation within 12 hours of admission. Chest CT was obtained with findings below.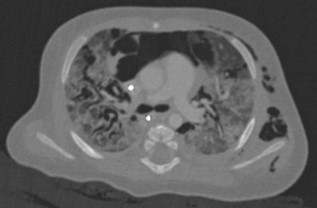 Figure 1. Axial image of CT chest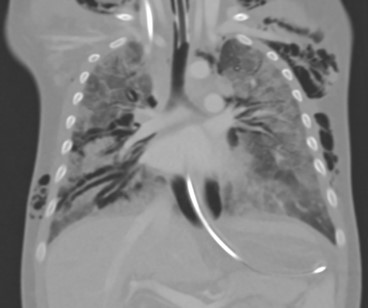 Figure 2. Coronal image of CT chest
Question:
What is the underlying pathophysiology leading to the pulmonary disease seen in the infant's chest CT?
Abnormal bronchial dilation caused by infection and inflammation
Altered embryologic airway branching morphogenesis causing cystic malformation
Rupture of terminal airways distal to termination of fascial sheath
Pulmonary vascular occlusion due to thrombotic events
C. Rupture of terminal airways distal to termination of fascial sheath
Discussion:
This patient has pulmonary interstitial emphysema (PIE) with chest CT showing extensive interstitial emphysema, diffuse heterogeneous opacification, and pneumomediastinum. The other answers choices are not commonly seen in PIE. Abnormal bronchial dilation caused by infection and inflammation refers to bronchiectasis, altered embryologic airway branching creates congenital pulmonary airway malformation, and pulmonary vascular occlusion due to thrombotic events indicates pulmonary embolism.
PIE occurs in infants when damage to terminal airways results in dissection of air into the surrounding interstitium.2,3,4 This may occur in a single lobe, in multiple lobes, or bilaterally.1,2 It is commonly associated with barotrauma in preterm neonates, but may also be secondary to surfactant deficiency or interstitial lung disease.2,4,5 When found in patients with interstitial disease, it portends a poor prognosis with increased risk of pneumothorax and mediastinal emphysema.5
Chest radiographs in PIE typically show cystic and linear radiolucencies.1,3 CT features include hyperexpanded cystic radiolucencies in a characteristic line-and-dot pattern due to air in the interstitium surrounding bronchovascular bundles, which appear as lines or punctate densities depending on the orientation of the vessels.2
Treatment is mainly supportive and often involves minimizing mean airway pressure to decrease further air leak, sometimes achieved by high frequency ventilation in neonates.1,4 In localized disease, decubitis positioning and selective lung intubation may be utilized, and lobectomy may be required for patients unresponsive to medical management.1
This patient received mechanical ventilation, including high frequency oscillatory ventilation, for a total of 13 days. Extensive infectious work-up revealed PJP and CMV pneumonia, and treatment with Bactrim, ganciclovir, and steroids was initiated. The infant made an excellent recovery and was eventually able to be discharged home without supplemental oxygen. Primary immunodeficiency is suspected but remains unidentified.
References
Berk DR, Varich LJ. Localized persistent pulmonary interstitial emphysema in a preterm infant in the absence of mechanical ventilation. Pediatr Radiol. 2005 Dec;35(12):1243-5. doi: 10.1007/s00247-005-1562-z.

Donnelly LF, Lucaya J, Ozelame V, Frush DP, Strouse PJ, Sumner TE, Paltiel HJ. CT findings and temporal course of persistent pulmonary interstitial emphysema in neonates: a multiinstitutional study. AJR Am J Roentgenol. 2003 Apr;180(4):1129-33. doi: 10.2214/ajr.180.4.1801129.

Freysdottir D, Olutoye O, Langston C, Fernandes CJ, Tatevian N. Spontaneous pulmonary interstitial emphysema in a term unventilated infant. Pediatr Pulmonol. 2006 Apr;41(4):374-8. doi: 10.1002/ppul.20322.

Gronbach J, Ehrhardt H, Zimmer KP, Waitz M. Early Pulmonary Interstitial Emphysema in Preterm Neonates-Respiratory Management and Case Report in Nonventilated Very Low Birth Weight Twins. AJP Rep. 2018 Apr;8(2):e99-e105. doi: 10.1055/s-0038-1648253.

Tachibana Y, Taniguchi H, Kondoh Y, Kataoka K, Hamada N, Hashiguchi T, Ichikado K, Kishaba T, Sato S, Udo E, Hashisako M, Fukuoka J. Pulmonary interstitial emphysema is a risk factor for poor prognosis and a cause of air leaks. Respir Investig. 2019 Sep;57(5):444-450. doi: 10.1016/j.resinv.2019.03.008.
Tweet