ATS Quick Hits
---
Stressed Out!
Emily Beck, MD
Pulmonary and Critical Care Medicine Fellow
University of Utah School of Medicine
Presentation:
A 73 year-old man presented with aspiration pneumonia. On hospital day 5, he suffered a respiratory arrest (without cardiac arrest) and was intubated for hypoxemic respiratory failure. Postarrest, he required vasopressors and inotropes for treatment of shock. A transthoracic echocardiogram was performed.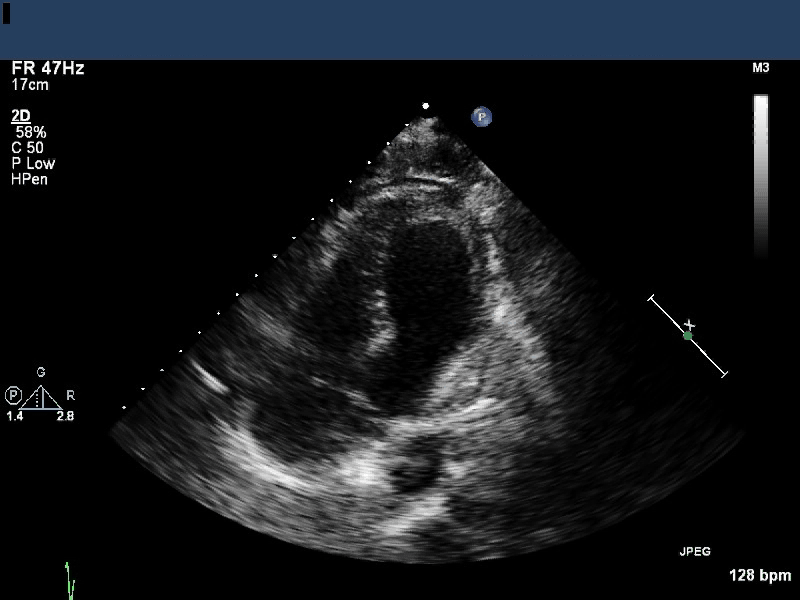 Apical 4 chamber
Parasternal long axis
Question:
What is the likely diagnosis?
Takotsubo cardiomyopathy with apical thrombus
Discussion:
Image 1 is an apical 4-chamber view which shows apical ballooning and hyperdynamic basal shortening, a classic depiction of takotsubo cardiomyopathy. An abnormality is visualized in the left ventricular apex.
Image 2 is a paraternal long axis. Severe segmental LV dysfunction with apical akinesis and is again seen. The left ventricular apex abnormality is less prominently redemonstrated.
Takotsubo's cardiomyopathy is classically seen in acute emotional or physical stress and mimics an acute anterior ST elevation myocardial infarction, although it is commonly described in septic cardiomyopathy and postarrest cardiomyopathy as well. Echocardiographic findings include hyperkinetic basal segments and wall motion abnormalities of the apical and, midventricular segments with "apical ballooning". Ejection fraction is reduced, but recovers quickly after resolution of myocardial stunning. Takotsubo refers to the characteristic shape of the ventricle and is one of many manifestations of stress cardiomyopathy. It likely results from an myocardial stunning in response to the surge of endogenous catecholamines produced by a stressful event or by receipt of exogenous catecholamines, or both.1 Diagnosis requires the presence of acute left ventricular wall dysfunction extending beyond one coronary artery region in the absence of significant obstructive coronary disease with rapid improvement of LV systolic function within days to weeks.1,2 Apical thrombus is a complication of 1-8% of all cases of Takotsubo's cardiomyopathy.3,4 When thrombus is documented, anticoagulation is necessary. There are no consensus guidelines for duration of treatment, but most agree that anticoagulation should be continued until there is echocardiographic documentation of resolution of myocardial contractility and thrombus. Prognosis is generally excellent with full recovery within weeks to months.
This patient never had cardiac arrest, although the pathophysiologic mechanism for post-arrest myocardial stunning can coincide with stress cardiomyopathy. Subsequent echocardiography revealed improved ejection fraction at 4 days, and complete resolution of ejection fraction and thrombus at 8 days.
References:
Citro R, Lyon AR, Meimoun P, Omerovic E, Redfors B, Buck T, Lerakis S, Parodi G, Silverio A, Eitel I, et al. Standard and advanced echocardiography in takotsubo (stress) cardiomyopathy: clinical and prognostic implications. J Am Soc Echocardiogr. 2015 Jan;28(1):57-74.

Komamura K, Fukui M, Iwasaku T, Hirotani S, Masuyama T. Takotsubo cardiomyopathy: pathophysiology, diagnosis and treatment. World J Cardiol 2014;6(7):602-609.

Kurisu S, Inoue I, Kawagoe T, Ishihara M, Shimatani Y, Nakama Y, Maruhashi T, Kagawa E, Dai K. Incidence and treatment of left ventricular apical thrombosis in Tako-tsubo cardiomyopathy. Intl J of Card 2009;146:e58-e60.

Haghi D, Papavassiliu T, Heggemann F, Kaden JJ, Borggrere M, Suselbeck T. Incidence and clinical significance of left ventricular thrombus in tako-tsubo cardiomyopathy assessed with echocardiography. Q J Med 2008; 101:381-386.