ATS Quick Hits
---
The 'Pain in my Heart'
Akesh Thomas, MBBS
Sajin M J Karakattu, MBBS
Department of Internal Medicine, East Tennessee State University, TN
Case
A 72-year-old female with a history of diabetes mellitus and hypertension presented to the emergency department with complaints of left-sided chest pain that started after an argument with her caregiver. In her own words, the deeds of the caregiver "left a pain in my heart." Physical exam was normal except for mildly elevated blood pressure. Troponin I trended up to 0.57 ng/ml (normal <0.3 ng/ml). ECG obtained is given below. Her prior ECG two months ago was noted to be normal. The coronary angiogram obtained showed normal coronary arteries, and ventriculography is shown below.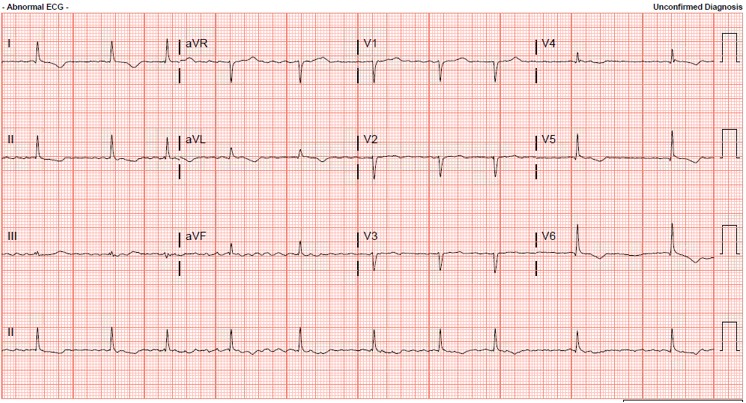 FIGURE A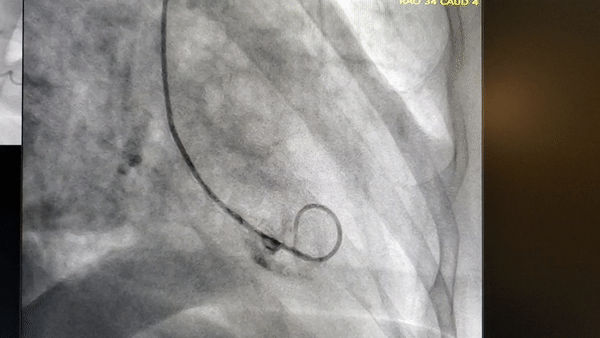 FIGURE B
Question
What is the diagnosis and the appropriate management for this patient?
Acute myocardial infarction, thrombolysis
Stress cardiomyopathy, conservative management
Normal ECG and ventriculogram, discharge the patient
Coronary artery vasospasm, calcium channel blockers
B. Stress cardiomyopathy (Takotsubo cardiomyopathy)

Discussion
The EKG shows T wave inversion in the lateral leads, which was new for the patient compared to her EKG two months ago. The LV gram shows apical ballooning, characteristic of stress cardiomyopathy. The patient was treated conservatively, and on further discussion, was found to be a victim of severe elder abuse.
Stress cardiomyopathy is characterized by transient left ventricular systolic dysfunction (often apical ballooning), often extending beyond a single vascular territory, with EKG findings and troponin elevation mimicking myocardial infarction, but do not have significant coronary artery disease. This is seen in approximately 1-2% of people presenting with troponin-positive suspected acute coronary syndrome (ACS).1 It is more commonly seen in women in their seventh and eighth decade of life.2 The EKG findings are indistinguishable from ACS and include ST-segment elevation in about 35 to 80%, T wave abnormalities in about 60%, and Q waves in about 20 to 30%.3,4 Cardiac biomarkers are usually mildly elevated in most patients.3 A physical or emotional stressor is often associated with the onset of symptoms.
Stress cardiomyopathy is often a transient condition managed with supportive therapy. However, in the presence of cardiogenic shock, hemodynamic support via vasopressors and possibly mechanical circulatory support are often required. Rarely, a thrombus may be found in the left ventricle, warranting anticoagulation therapy. Similarly, if patients present with a severely reduced ejection fraction, some authorities recommend anticoagulation, but the evidence behind this approach is limited. In-hospital mortality for stress cardiomyopathy varies from 0-8% in the various study populations; increasing age, physical stressors, comorbid conditions, and shock at presentation are all associated with poor outcome. Once patients survive the acute episode, systolic function usually recovers within a few weeks.
References
Kurowski V, Kaiser A, von Hof K, et al. Apical and midventricular transient left ventricular dysfunction syndrome (tako-tsubo cardiomyopathy): frequency, mechanisms, and prognosis. Chest. 2007;132(3):809-816. doi:10.1378/chest.07-0608

Akashi YJ, Goldstein DS, Barbaro G, Ueyama T. Takotsubo cardiomyopathy: a new form of acute, reversible heart failure. Circulation. 2008;118(25):2754-2762. doi:10.1161/CIRCULATIONAHA.108.767012

Gianni M, Dentali F, Grandi AM, Sumner G, Hiralal R, Lonn E. Apical ballooning syndrome or takotsubo cardiomyopathy: a systematic review. Eur Heart J. 2006;27(13):1523-1529. doi:10.1093/eurheartj/ehl032\

Namgung J. (2014). Electrocardiographic Findings in Takotsubo Cardiomyopathy: ECG Evolution and Its Difference from the ECG of Acute Coronary Syndrome. Clinical Medicine Insights. Cardiology, 8, 29–34. https://doi.org/10.4137/CMC.S14086