ATS Quick Hits
---
The White Plague
Mohamad Badr Jandali, MD & Deepika Polineni, MD
Kansas University Medical Center, Department of Pulmonary and critical care Medicine
Case
52-year-old male from Mexico with advanced alcoholic liver disease presented with confusion, cough, and mild hemoptysis.  Social Hx: Daily alcohol consumption, former smoker and no drug abuse.  Vitals showed T of 38.1C and labs showed worsening of chronic hyponatremia to 119 mmol/L and severe thrombocytopenia 4 K/UL. His chest X-ray (image A) and CT scan (image B) are shown. 
Images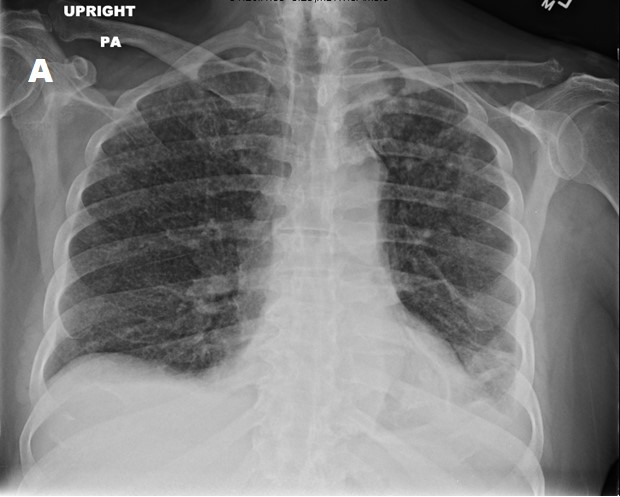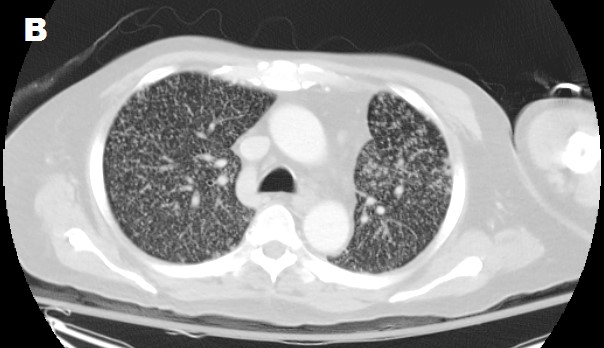 Question
What is the most likely diagnosis?
Miliary Tuberculosis
Septic emboli
Malignant metastases
Sarcoidosis
Answer:  A. Miliary Tuberculosis
Discussion
These are classic radiographic findings of miliary TB.  It's characterized by innumerable small diffuse nodular densities throughout lung fields, usually 1-3mm in diameter[1]. In nineteenth century, It was called the white plague as patients became extremely pale before death. History and clinical suspicion should guide the work up of miliary radiographic pattern.  In our patient, diagnosis was established with a positive T-spot followed by positive peritoneal fluid AFB cultures. 

The term miliary opacities came from millet seed, a common grain grown around the world (image C).  The radiographic miliary pattern is most commonly linked to tuberculosis, but it can actually be seen in many other diseases: infections such as tuberculosis, Haemophilus influenza, Mycoplasma pneumonia, and fungal infections[2];
metastatic malignancy such as papillary thyroid cancer, renal cell carcinoma, lymphoma, and osteosarcoma[3] ;
and other conditions including sarcoidosis, hypersensitivity pneumonitis, and pneumoconiosis.

The treatment of miliary (disseminated) tuberculosis is similar to that of pulmonary TB. It starts with 4 drugs intensive phase therapy with Isoniazid, Rifampin, Pyrazinamide and Ethambutol for 8 weeks followed by 18 weeks of 2 drug continuation therapy with Isoniazid and Rifampin. The role of adjunct corticosteroid therapy remains controversial, but it should be considered especially when CNS involvement is present. Seeking an expert opinion is strongly recommended, as many of these patients require individualized therapy regimens due to certain comorbidities. Prognosis largely depends on baseline comorbidities, treatment adherence and organ involvement where CNS disease seems to predict higher mortality[4] .
Unfortunately, our patient's condition worsened despite therapy and he died from multiorgan failure.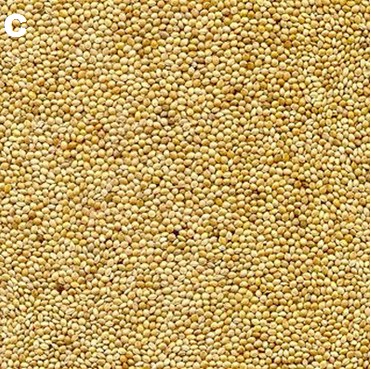 References:
Andreu J, et al.  Miliary lung disease revisited.  Curr Probl Diagn Radiol 2002; 31(5): 189-97.

Furqan M and Butler J.  Miliary pattern on chest radiography: TB or not TB?  Mayo Clin Proc 2010. 85(2): 108.

Koutsopoulos AV, et al.  Is a miliary chest pattern always indicative of tuberculosis or malignancy?  Respiration, 2006; 73(3): 379-81.

Nahid P, et al.  Official American Thoracic Society / Centers for Disease Control and Prevention / Infectious Diseases Society of America Clinical Practice Guidelines: Treatment of drug-susceptible tuberculosis.  Clin Infect Dis 2016; 63(7): e147-95.
Last Reviewed: September 2018