Featured Articles
---
Article:
Clancy CB, Heath JK, Nandiwada DR, et al. Development and Implementation of a Novel Learner-driven Precepting Model for Pulmonary Fellowship. ATS Scholar. 2020. https://doi.org/10.34197/ats-scholar.2019-0011IN
Summary:
Pulmonary and critical care fellowship training often underemphasizes ambulatory medicine education with fellows reporting that they feel underprepared for independent outpatient practice. Prior focus on improving ambulatory education has been on improving medical knowledge. The authors of this paper conducted a multifaceted local needs assessment to inform the development of a novel learner-driven precepting model, which prioritizes clinical reasoning skills and self-identification of educational objectives for each encounter. The authors discuss the results of their implementation and evaluation of the model in their large, academic fellowship program, as well as barriers to its use and plans for refinement. For this blog post Sheetal Gandotra, MD interviewed first author Caitlin Clancy, MD.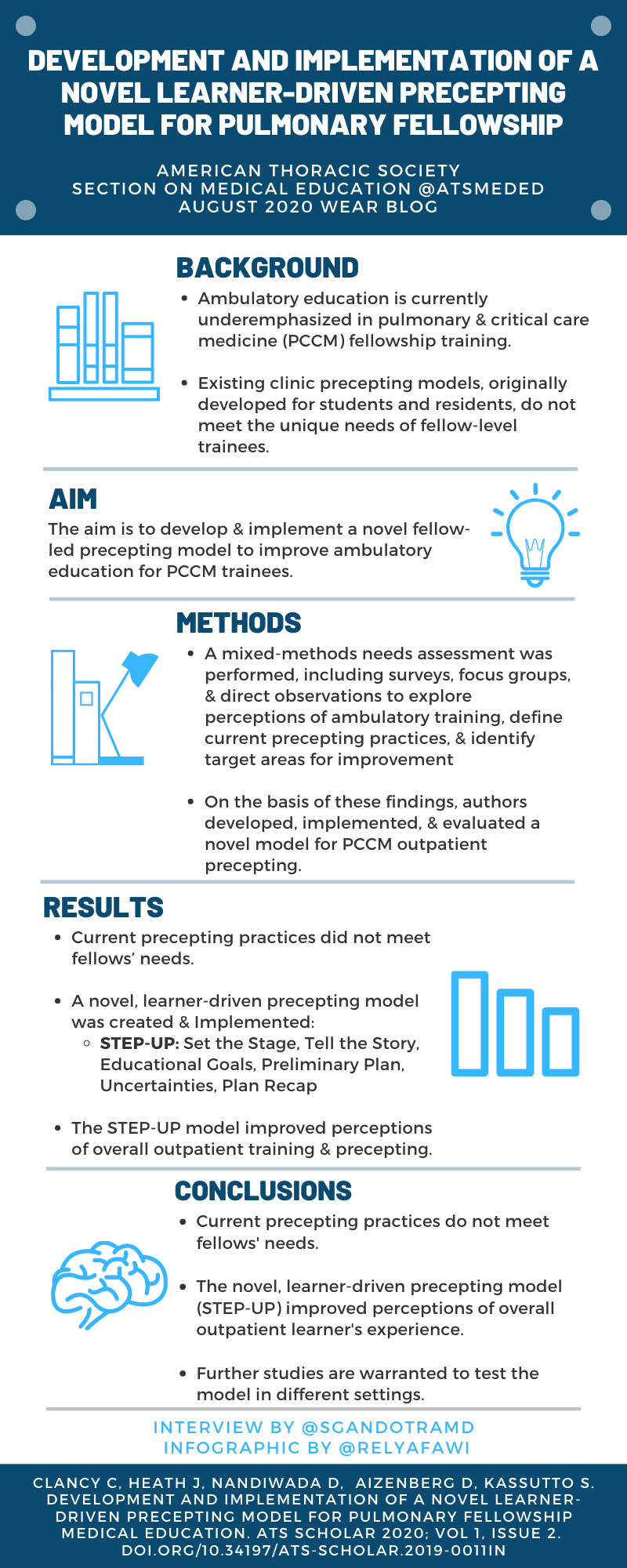 Interview:
SG: What sparked your interest in developing a new model for precepting in pulmonary clinic? How did you decide to take on researching this topic?
CC: I think like a lot of educational and process improvement work, this project really grew out of the sense that our current system was missing the mark, and wanting to understand why and how we could make things work better for learners, preceptors, and patients. In many ways, this project was an extension of our senior author, Dr. Stacey Kassutto's, prior work in improving ambulatory education in PCCM fellowship (view here). She did work in improving knowledge and focus on ambulatory topics, and it felt like this was the next stage on Miller's pyramid- we were getting there in terms of "knows" and "knows how" but needed work on the "shows" and "does". During my fellowship, I was getting training in quality improvement and in research methods, and this felt like the perfect opportunity to apply a hybrid of those methods to address our problems.
SG: As a fellow yourself during the development and implementation of the STEP-UP model, can you discuss how you used it/fit it into your clinic precepting? How did its use impact your development as a pulmonologist?
CC: It was a really interesting project to take on from the perspective of a fellow, because I ended up learning a lot about the preceptor perspective that I don't think I would have otherwise had access to. Being able to understand the challenges faced by preceptors - in particular the fact that they also felt the current precepting model was focused too much on data presentation but that they also felt conflicted supervising without knowing primary data themselves - helped me to grasp what the competing needs of the precepting encounter were, and I think helped me personally to develop my abilities to articulate clinical reasoning in a way that also presents data. That is ultimately the goal of the STEP-UP model.
SG: Trainees and faculty often report that they would like more specific feedback. What are your thoughts on the impact of the STEP-UP model on feedback occurrence or quality of feedback for trainees/faculty? Was this something you explored in your study?
CC: Absolutely - I think that the STEP-UP model sets up the precepting encounter for the feedback to be about clinical reasoning, which is mostly what fellows (especially senior fellows) want to hear most about. The other thing that we rolled out as part of the clinic precepting model overhaul was an ambulatory competency committee, where all the clinic preceptors meet every 6 months to discuss trainee performance. Trainees communicate goals ahead of the meeting via an online form, and the committee provides feedback and recommends adjustment of goals if appropriate. We haven't studied this formally yet, but we are hoping that this group discussion generates more useful feedback to learners, compared to the written evaluations we were using previously.
SG: Has this precepting model continued at your institution since the study has been completed? What other interventions were needed to overcome the barriers to uptake you mentioned in the paper?
CC: Like most things, the COVID-19 pandemic has completely altered our clinic precepting, and our clinic itself. We now are utilizing much more telemedicine, with fewer fellows physically present in clinic. This has allowed us to assign preceptors to fellows ahead of time, and the fellows are "pre-precepting" the telemedicine encounters, so that the attending can more smoothly join the video or phone call. This essentially eliminated the information asymmetry and the need for the fellow to communicate large amounts of history and data in a rushed fashion, which more naturally allows the conversation to center on clinical reasoning. In particular, because the fellow has not yet spoken with the patient, the conversation centers around branching clinical reasoning - if the patient is doing well I will recommend this, if they are not doing well I will think about x, y, and z. This brings clinical reasoning front and center. The system is currently working so well that it is being naturally incorporated for the in-person visits as well. One element of the STEP-UP model that caught on early (despite difficulty adapting the whole model) and has sustained is the learning goal setting for each encounter. I think that this has been very impactful.
SG: What suggestions do you have for an institution attempting to implement this learner directed precepting model for pulmonary clinic? At what point in fellowship is this model best introduced? Do you have any advice for overcoming the barriers to uptake?
CC: I think one of the lessons we learned with our project is that deeply understanding the current state and the stakeholders concerns and workflow was critical to building a useful model, so the biggest piece of advice would be to make sure to take the time to understand what the local landscape looks like. That said, I think it is fair to say that learner-driven precepting and a focus on clinical reasoning will be attractive to most fellow-level learners. Our model implementation specifically calls for using a more-detailed, traditional approach with new patients, complicated patients, and new learners. Pairing with our ambulatory competency committee, so there can be shared understanding of an individual fellow's readiness to use the more advanced model, was also a key factor in getting the preceptors to buy in. Lastly, we didn't try to force the model when the precepting circumstances changed and were willing to adapt to the new circumstances. We are constantly assessing and refining to fit the current needs of our learners and our program.
---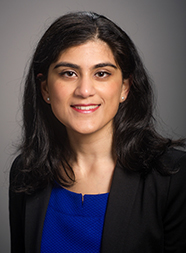 Blog post author
Dr. Gandotra is an Assistant Professor in the Division of Pulmonary, Allergy and Critical Care Medicine at the University of Alabama Birmingham. Her research interests include long term outcomes after critical illness, simulation-based performance improvement in pulmonary fellows and the role of social media/technology in medical education. Dr. Gandotra serves as the Assistant Program Director for the Pulmonary Critical Care Medicine fellowship at UAB. She is excited to the be the 2020-2021 editor for the "What Educators Are Reading" blog (WEAR) for the American Thoracic Society's Section on Medical Education, as well as a new member of the ATS Members in Transition and Training Committee.
Twitter: @SGandotraMD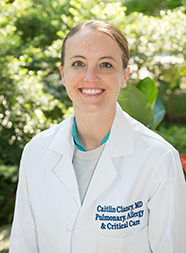 Article authors
Dr. Clancy is an instructor in Pulmonary and Critical Care Medicine at the Perelman School of Medicine and a staff physician and fellowship site director at the Michael J Cresencz VA Medical Center. Her current educational roles include Assistant Program Director for the PCCM Fellowship program, core faculty for the Internal Medicine Residency for Quality, Safety, and Value education and Director of Curricular Analytics, Innovation and Technology for undergraduate medical education in the Department of Medicine. Her work on ambulatory precepting models was funded by the Fellowship in Diagnostic Excellence with the Society to Improve Diagnosis in Medicine, the Center for Healthcare Improvement and Patient Safety, and the Gordon and Betty Moore Foundation.
Twitter: @CaitClancy