Featured Articles
---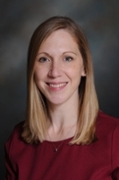 Blogger: Erin Raci Wetherbee
About the blogger: Erin Raci Wetherbee, MD is a staff pulmonologist at the Minneapolis VA Medical Center and assistant professor of medicine at the University of Minnesota. Her primary interest is in medical education, with a focus on interprofessional education. Dr. Wetherbee serves as core faculty and coach for the University of Minnesota internal medicine residency program. 
Citation: Patrawalla P, Eisen LA, Shiloh A, et al. Development and Validation of an Assessment Tool for Competency in Critical Care Ultrasound. Journal of Graduate Medical Education: December 2015, Vol. 7, No. 4, pp. 567-573
Why this article? 
The field of care ultrasound has developed with accelerating speed in recent years and it is now considered an essential competency for pulmonary and critical care training.  Training opportunities and experience are expanding at all levels of education, and this is something I have been particularly involved with at the GME level for both residency and fellowship training at our institution.
Core components of critical care ultrasound have been established.  Training standards exist.  Competency is defined.   However, there is no certification program or standard.   A major question exists: do we know competency when we see it?  
This study attempts to chip away at that gap by developing the first validated assessment tool for critical care ultrasound.   First, a modified Delphi method was used to establish assessment checklists for DVT and echo exams.   The checklist was then used to assess 28 fellows imaging one standardized patient actor.   Checklists were completed independently by 1 live bedside rater and asynchronous video raters, all of whom had high level of expertise in critical care ultrasound and were involved in the checklist development.  Interrater reliability was high between live and video raters and between 2 video raters.  
The study is heavily weighted by expertise and doesn't provide a basis for wide application of the assessment tool, but it is the first of its kind in our field and offers some preliminary evidence that we are lacking.