Featured Articles
---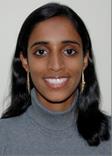 Blogger: Lekshmi Santhosh
About the blogger: Lekshmi Santhosh is currently a second-year Pulmonary & Critical Care Medicine fellow at UCSF. She completed her M.D. from Harvard Medical School and moved to UCSF for her internship and residency, after which she completed an inpatient chief resident year at UCSF. She is interested in graduate medical education with a particular focus in critical care.
Link: http://jama.jamanetwork.com/article.aspx?articleid=2556129
Citation: Bentzer P, Griesdale DE, Boyd J, MacLean K, Sirounis D, Ayas NT. Will This Hemodynamically Unstable Patient Respond to a Bolus of Intravenous Fluids?. JAMA.2016;316(12):1298-1309. 
Why this Paper: The JAMA Rational Clinical Exam section is one of my favorite sections in JAMA as it can show learners the sensitivity and specificity of various physical exam maneuvers. This article focuses on the holy grail of volume-responsiveness in our hemodynamically unstable patients, a problem that has always plagued critical care providers. 
This article analyzed 50 relatively heterogeneous studies (total of 2260 patients) that looked at which findings on physical exam were predictive of fluid responsiveness. Common maneuvers that we do in the ICU, like measuring IVC diameter variability with respiration, passive leg raise, and pulse-pressure variation were assessed. The study showed that CVP remains an unreliable metric to assess fluid responsiveness (positive LR of only 2.6). The study suggested that passive-leg raise had a good positive LR of 11. Pulse pressure variation and IVC variation were found to have positive LRs of 5.3 (on volume-control ventilation) and 3.5 - 9.3 (spontaneously breathing) respectively.
My take-home point for learners in the ICU is that "in real life," volume status and fluid responsiveness is still not always easy and that it's helpful to use multiple tools at our disposal to make a global assessment of volume responsiveness. Of the tools that we have, CVP seems to be the least helpful and passive leg raise can be cumbersome but very helpful. I still use IVC variation and pulse pressure variation and find them to be helpful with their known limitations. This paper can help learners learn in more detail about the sensitivity, specificity, and positive predictive value of our commonly used maneuvers in the ICU.