Featured Articles
---
Integrating Narrative Goals of Care in the Medical Intensive Care Unit: Impact on Educational and Clinical Outcomes
Article Citation: Chatterjee, S., Roberts, B., Ahluwalia, A. K., Wright, S., & Wu, D. S. (2022). Integrating narrative goals of care in the medical intensive care unit: Impact on educational and clinical outcomes. ATS scholar, 3(3), 449-459.
Summary
High-quality goals of care conversations are an essential component of ICU care, aiming to align patients' values with the medical care they receive. Unfortunately, these conversations are often absent or inadequate, and large multicenter studies evaluating decision support tools and structured communication pathways have so far failed to demonstrate reproducible effects. Dr. Chatterjee and colleagues hypothesized that the number of patients receiving high-quality goals of care conversations in the MICU would increase with implementation of a multicompotent intervention, incorporating Lean Six Sigma workflow changes and the 3-Act Model narrative medicine- based communication training for pulmonary and critical care (PCCM) fellows. PCCM fellows received additional education via didactics, direct observation, and roleplay and served as the clinical leads for each goals of care conversation. Retrospective chart review showed that compared to the preintervention period, documented goals of care conversations in the postintervention period increased significantly from 5.55% to 28.89%. Palliative care consults also increased from 4.85% to 14.52%, respectively. By combining effective training of PCCM fellows, tailored quality improvement methods, and leveraging interprofessional ICU roles, this intervention led to an increase in documented high-quality goals of care conversations and illuminated the importance of excellent palliative care in the ICU.
Interview
SH:  Your innovative approach to goals of care communication focuses on relationship building, narrative medicine, and interdisciplinary care, rather than checklists, triggers, or structured pathways. Do you think this type of mindset may be the key to future successful ICU family support interventions?
SV:  This hits on a very important point with regards to our work in the ICU.  A challenge that many providers have faced with the increase in administrative work, documentation burden, and time spent in the electronic medical record is a loss of human connection in the ICU.  The fundamental practice of caring for the ill requires human connection with your patients.  However, the "work" of medicine over time has taken us away from this fundamental need.  It is our opinion that a structured narrative approach is a way to bring us closer to that human connection.  At the same time, checklists, triggers, and more structured pathways can be effective tools to bring palliative care into the ICU.  At Hopkins Bayview, we are lucky to have a MICU culture that prioritizes this human connection and education with resources (educators, learners, time) that may not be available in all units.   
SH:  Your postintervention results (from November 2020 to January 2021) show a remarkable increase in documented goals of care conversations. Have you considered performing an additional retrospective chart review 6 to 12 months after the postintervention period to evaluate the longer-term effects of your intervention?
SV: Another great point.  We have looked into this data.  Amazingly there is a sustained effect to our intervention.  We believe this is related to the enduring impact of well-designed and practical education, sustained staff and leadership, and positive feedback from families and patients cared for in our unit.
SH:  Could you describe how you established the requirements for documentation of goals of care conversations?
SV: As discussed in the article, our standard for documentation of goals of care is quite high.  The reason we chose a more rigorous standard is related to the goals of our MICU and institution: provide the highest quality critical care possible.  It is also related directly to the 3-act model and its inherent structure.  In a more general sense, we have concerns that the documentation in the electronic medical record has also moved away from its real purpose: communication amongst providers (and now patients and families) on what is actually happening with the patient; if this is the goal, documentation quality must be better.
SH:  Are you planning any future studies to look at the impact of the 3-Act Model on family member satisfaction or family member symptoms of depression, anxiety, and PTSD?
SV: This is a great idea.  We are currently working expanding the reach of the 3-act model to other ICUs in the Hopkins system.  Our feeling is that once we grow the model and implementation, we can set up to ask and answer more questions including satisfaction, symptoms of depression, anxiety, and PTSD.
SH:  What recommendations would you give to other PCCM fellowship programs or ICUs that want to improve their goals of care conversations with patients and families?
SV: There are many effective ways to have goals of care conversations.  While the 3-act model may not be perfect for everyone, what we appreciate is that it fits with our beliefs on how care should be delivered, most importantly with an emphasis on humanism and patient stories.  Our other belief is that excellent palliative care should be a part of excellent critical care, and for us, that means part of PCCM training.  For me, I've found that communication with families is one of, if not the most important, part of my ICU practice.  Communicating with patients and families of the critically ill requires expert level understanding of what is happening with the patient, why it may be happening, and what we should do about it.  It should force the PCCM provider to identify diagnoses, treatments and prognosticate.  All that science and effort has to be then delivered while understanding the emotion, tension, relationships (within families, about healthcare, about science, about society etc.) and uncertainty surrounding life and death.  For me, it is the real art of medicine.  It is extremely challenging to do well, and requires dedicated curricula, time, and emphasis in training and beyond.  No one is a natural expert at this, and we can all improve on it.  So, what recommendations do I have for PCCM fellowship programs or ICUs: spend more time training your teams to provide palliative care in the ICUs. 
---
Blog Post Author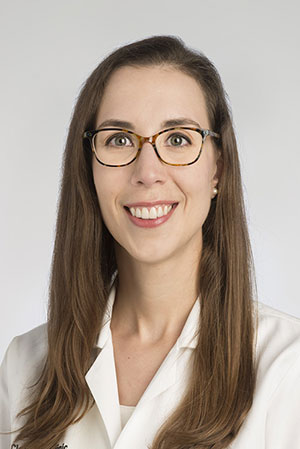 Sarah Hochendoner Duda, MD is a staff physician in pulmonary and critical care medicine at Cleveland Clinic. After graduating from New York Medical College, she completed internal medicine residency at Brown University, followed by pulmonary and critical care fellowship at Penn State Health Milton S Hershey Medical Center. Her academic interests include end of life care in the ICU, family support and engagement, and medical education. 
Twitter: @sarahdudamd
Article Author
Dr. Souvik Chatterjee is a pulmonary and critical care medicine physician.  He is an expert in the practice of critical care medicine and has worked in diverse medical and surgical critical care units.  His focus is on medical education, diagnostic reasoning, and procedural and simulation training for the intensivist.  Dr. Chatterjee graduated with Distinction from the University of North Carolina School of Medicine.  Thereafter he completed Internal Medicine Residency in the Osler Medical Training Program at Johns Hopkins Hospital, where he later served as Assistant Chief of Service.  His Critical Care and Pulmonary training was completed in a combined program through Johns Hopkins and the National Institutes of Health.  Dr. Chatterjee has received numerous teaching and clinical awards during his time at Hopkins including the Institute of Excellence in Education Outstanding Educator Award, Faculty Teaching Award from the PCCM fellows, and the Johns Hopkins Medicine Clinical Excellence Award.  He currently serves as the Program Director for the Johns Hopkins Pulmonary and Critical Care Medicine Fellowship and the Director of the Hopkins Bayview Medical Intensive Care Unit.
Twitter: @JHUPCCMFellows