Featured Articles
---
Article:
Article: Maatman TC, Prigmore H, Williams JS, Fletcher KE. "Patient safety superheroes in training: using a comic book to teach patient safety to residents." BMJ Quality & Safety 28.11 (2019): 934-938. http://dx.doi.org/10.1136/bmjqs-2018-009094
Summary:
Investigators in medical education are continually trying to find innovative ways to teach, especially in graduate medical education. The authors of this study created a comic book to teach patient safety issues to Internal Medicine residents, and measured feasibility and effectiveness. After the intervention, they found an increase in resident confidence for identifying and reporting patient safety lapses. The comic book was reported to be an enjoyable and engaging didactic tool. For this blog post, Grant Turner interviewed first author Theresa Maatman.
Interview:
GT: You briefly describe in your introduction how comic books have been used in the past for medical education and improving empathy. How did you come up with the idea to combine comic books with patient safety for this study?
TM: My mentor has an area of focus in patient safety. She initially asked me to make a single comic for use as an activity for Patient Safety Awareness Week. Basically, students and residents would stop by and the comic was an activity they could use. After seeing how we could use this, similar to the Highlights "what's wrong with this picture" and how that worked, I went on to develop a whole comic book on patient safety to use for the residents.
GT: In your study you describe a novel educational method for Quality Improvement through the use of comic books. What other subject matter or topics do you think could be amenable to this type of didactic?
TM: I think there are many topics. I am currently conducting a scoping review of the use of comics in medical education and there seems to be several different ways comics are used in education. One big theme is to teach patient experience. There are many professional graphic novels out there like "Mom's cancer", "Can't we talk about something more pleasant" and "El deafo". (You can see a compilation on https://www.graphicmedicine.org/) These can be very effective at teaching empathy and how the patient perceives the medical community. I have also seen where people use comics to teach a specific topic, like what I did with patient safety, including neurology, surgery, or anatomy. It depends on what the person designing it is interested in teaching. Lastly, I see people having students draw their own comics and exploring what they draw and how it helps them. I have done some of this myself. It's fun to see the type of work they create and what stands out to them. Despite their not being artists, I have had success getting students to engage in drawing. I then study this using surveys and analyze the comics.
GT:  New educational tools can sometimes be met with pushback from learners. What was the initial reaction of the residents as they reviewed the comic book?
TM: They seemed to engage readily with it, pretty much jumping right in. Some participants sort of smirked as they flipped through the book, as if amused at how this is being used to teach. At the same time, lecturing is not necessarily the most effective means of teaching. This is more active and engaging.
GT: Now that time has passed since the intervention, have you noticed a change in patient safety event reporting, or any other objective measures, to suggest the course changed residents' behavior around safety reporting?
TM: My expertise is in comics, not patient safety specifically. I will say that at a big hospital like ours, where there are many different teams, I doubt this would change institution-wide numbers. We did follow up with a few participants, who anecdotally noted that they had made some changes.
GT: Moving forward, how can other centers expand on this research? Is this comic book something available to be shared with other residency programs for educational purposes around patient safety?
TM: Comic books like this could be paired with modules that focus on safety within different areas of the hospital, like the intensive care unit, operating room, and ambulatory centers. Or perhaps as online interactive tools to reach a broader audience, similar to how ACLS and BLS are taught with interactive cases.
---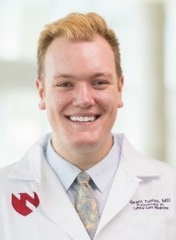 Blog post author
Grant Turner, MD is a fellow in Pulmonary & Critical Care at the University of Nebraska Medical Center in Omaha, Nebraska. He completed his internal medicine training at Thomas Jefferson University in Philadelphia, Pennsylvania. His academic interests include lung transplant, medical education, patient safety and quality, and LGBTQ+ inclusive subspecialty medical care.
Twitter handle: @GrantTurnerMD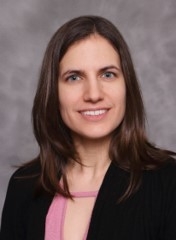 Article author
Dr. Theresa Maatman is an assistant professor in General Internal Medicine with a clinical practice in primary care. She trained both as a medical student and resident at the Medical College of Wisconsin (MCW). In 2014 she joined the faculty, and since then has made her mark at MCW in the field of Graphic Medicine, which is the intersection of Medicine and Comics. She teaches comics to medical students and residents as a way of discussing stressors, and has also used comics as a means of teaching patient safety to residents. Her other roles include doing graphic work on request for publications or grants, and she is the course director for the clinical apprenticeship course.
Twitter handle: @TCMaatman