Featured Articles
---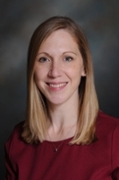 Blogger: Erin Raci Wetherbee
About the blogger: Erin Raci Wetherbee, MD is a staff pulmonologist at the Minneapolis VA Medical Center and assistant professor of medicine at the University of Minnesota. Her primary interest is in medical education, with a focus on interprofessional education. Dr. Wetherbee serves as core faculty and coach for the University of Minnesota internal medicine residency program. 
Link:  http://www.sciencedirect.com/science/article/pii/S0002934316312177
Citation: Schuller MC, DaRosa DA, Crandall ML. Using Just-in-Time Teaching and Peer Instruction in a Residency Program's Core Curriculum: Enhancing Satisfaction, Engagement, and Retention. Acad Med. 2015;90(3):384-391.
doi: 10.1097/ACM.0000000000000578
Why this paper? 
Having been a chief resident at a large program, I am (or at least was) familiar with complex task of coordinating core topics, wrangling faculty presenters, and assuring resident attendance.    While innovative presentation styles were always welcomed, the truth is that refurbishing and delivering an old slide set is as comfortable to the teacher as the quiet reprieve of a protected hour of passive learning and lunching is to the busy trainee.   This familiar and predictable model is simply not the most productive.
I was preparing to deliver a residents' pulmonary core conference when I came across this article by Schuller and colleagues, who studied the implementation of two teaching practices in the core curriculum of a general surgery residency program: just-in-time training (JITT) and peer instruction (PI).   JiTT involved surveying the residents regarding assigned preparatory reading prior to the scheduled session, and opening the session with a tailored 10-15 minutes of "lecture" targeting areas of identified need.  From there, multiple choice questions were reviewed using a real-time audience response system.   If 35-70% of residents answered correctly, residents formed small PI groups to discuss and produce the correct answer.
JiTT and PI in this program were associated with high learner and faculty satisfaction, increased time of resident engagement compared to conventional sessions, and increased retention of knowledge compared to non-attendees.   About half of faculty indicated that this format increased the amount of preparation time required, though the amount of preparation time itself was not studied.
I found this to be an interesting and highly rational approach for our adult learners, and I was encouraged by the relative implementation success in this program.