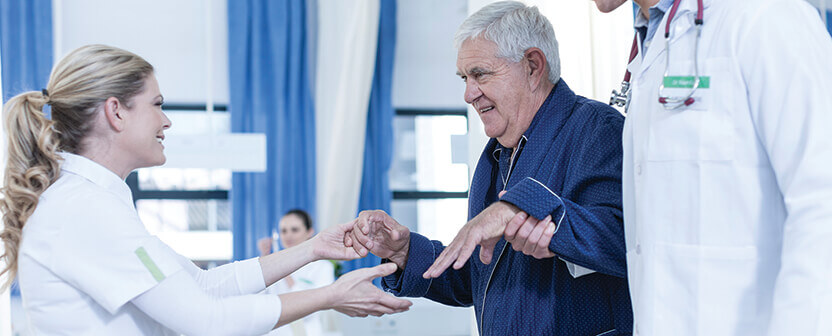 We recommend asking the following questions:
"How much physical activity do you think is possible for my loved one?"
"Can my loved one get out of bed for a period of time each day?"
"Are there exercises that can be done while my loved one is in bed?"
"Is there a physical or occupational therapist for the ICU who can work with my loved one?"
Many patients in the ICU spend the majority of their time in bed; their critical illness makes them fatigued, short of breath, or uncomfortable, or they are receiving medications that make them sleepy. However, both critical illness and bedrest cause patients to lose muscle strength, and those who are sickest the longest become the weakest. Weakness can make it difficult to do basic, everyday things, such as get out of bed, get dressed, bathe, or walk to the bathroom. Daily exercise has been linked to shorter ICU stays for patients and decreased risk of delirium. For these reasons, it is important that patients participate in daily exercise and rehabilitation when they are medically stable.
Participating in rehabilitation can be challenging. Patients are often uncomfortable, with movement restricted by machines and tubes. However, even patients on ventilators can participate in rehabilitation by sitting up on the edge of the bed, sitting up in a chair, and, in some cases, walking with assistance. Family encouragement is very important to getting patients to participate in daily exercise.
DISCLAIMER
This Intensive Care Unit (ICU) guide for patients and families is intended to provide general information about adult ICUs. The guide is for informational purposes only and is not a substitute for the advice or counsel of one's personal healthcare provider.